Today is Den Izad, the 24th of the Zoroastrian Calendar: 18 Mehr solar
Death memorial of Ardeshir Mohasses, founder of modern caricature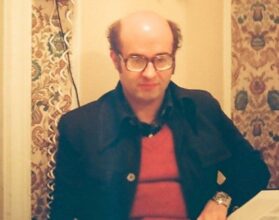 Today is Den Roz of the month of Mehr, 24th of Mehran, in the year 3759 Zoroastrian calendar, Sunday, 18th Mehr 1400, solar calendar, 1400, October 10, 2021 AD.
Mehr 18 is the thirteenth anniversary of the death of Ardeshir Mohasses, a talented contemporary designer, painter, cartoonist, and artist.
Ardeshir Mohasses is called the founder of modern caricature in Iran. He was the first person in Iran to create a new style for Iranian cartoons, much like the style used all over the world. By translating the selected book about works of French cartoonists, which was published in Iran, he sped up the development of conceptual cartoons and without description, in Iran.
Ardeshir Mohasses was born on the 18th of Shahrivar, 1317, in art-loving families from Rasht. As a child, his mother had the greatest influence on forming his artistic talent; Sarvar Mahkameh Mohasses Lahijani, Ardeshir's mother, was a close friend of Parvin Etesami, and she herself was also a poet at that time, a poet who could write stories on the spot, and so had a subtle role in the development of Ardeshir's mind. Before he could even talk, Ardeshir Mohasses started drawing sketches and would draw on paper whatever that he observed around him. Mohasses remembers being taken to the cinema when he was three years old. On his return, his sister's music teacher asks him about the film, and instead of telling the story, Mohassess designs memorable scenes. "From those days, it was much easier for me to express my feelings and thoughts through painting than to talk about them," says Mohasses.
Ardeshir Mohasses never studied art academically. Even though he had won the top position among all applicants to the Tehran School of Fine Arts, he decided to study law at the University of Tehran after graduating from high school, thinking that he might one day follow in his father's footsteps and become a judge. But the bachelor's degree in law and political science, as Mohses himself places it, was "only a glaze on his resume". After graduating from law school in 1341, he worked in the library of one of the ministries, and within a year, he read all the books there, and then resigned from the job and devoted himself to sketching, for the rest of his life. His sister, Irandokht Mohasses, is also a cartoonist and art theorist. He is the cousin of Bahman Mohasses, a sculptor and painter.
He was active in the "Ketab-e Jom-e" weekly for some time. When Ahmad Shamloo became editor of "Ketab-e Hafteh", he used Ardeshir's sketches for publication. Thus, this style of sketch was registered in his name. After Ketab-e Jom-e closed down, Mohasses joint Kayhan newspaper, and for a while his sketches were published in this newspaper, despite their satirical meaning. Many of his works have a political and social theme. He worked with Kayhan newspaper on a regular basis, and for many years wrote for the paper's "art and thought" page. In 1350, Sirous Tahbaz published the first collection of Mohasses's sketches under the name "Cactus", in "Books of the times". He published many books, from which can be attributed to Ardeshir and his portraits (1350) Ardeshir and the stormy weather (1351) Ceremonies (1351) Identity cards (1351) Moments (1351) Events of coincidence (1352) Free plans (1353) Infidelity (1354) And congratulations (1975). Among Mohasses' works, the books "Ardeshir Mohasses, A Short History" and "Life in Iran" were published in 1994 by MAGE Publications in the United States, can be mentioned.
He drew several sketches for New York Times, and a collection of 80 to 100 of his works is now housed in the National Library of America. Until two years before his death, there was no news of Mohasses in Iran, and no one knew about him. Several of his works were exhibited in Tehran for the first time after the revolution. The last exhibition of his works in Iran was held at the suggestion of Amir Farhad in 1385 and 1386 with the titles of Ardeshir after thirty years and Ardeshirestan in Homa Gallery in Tehran. The last exhibition of his works was held in Khordad 1378 in New York by the "Asian Association" in honor of this Iranian cartoonist. In this publication, which was held in commemoration of Mohasses's art works, he was not present due to illness. After his death, various events were held in his honor, including his commemoration in the modern section of Art Dubai 2014. Mohasses formally cooperated with the popular newspaper "June Afric" (Young Africa).
He spent the post-revolutionary years in New York, and Parkinson's disease severely reduced his motor and speech abilities. Until the end, Mohasses was working on caricatures and sketches despite his illness. Finally, he died at the age of 70, away from his homeland.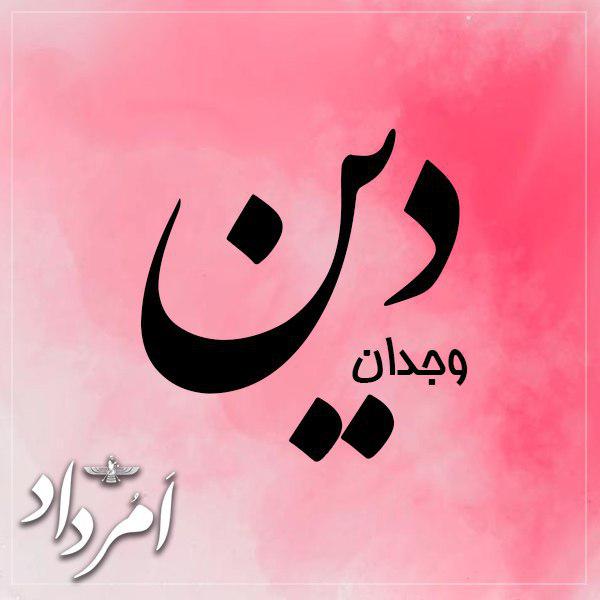 Den is a Persian word meaning conscience, insight, and inner attitude that has been placed in the body of every human being by Ahuramazda so that she can find the right and right path and walk in it by living with its power.
Den is the name of the twenty-fourth day of each month in the Zoroastrian calendar, and the guardianship of the twenty-fourth day of the month is committed to the Den Izad. Den is the name of a god from the gods of Zoroastrianism, the guardian of cream. This day is considered to be good for children to start going to school.
In the list of Iranian days, Abu Rayhan al-Biruni mentioned the name of this day as "Den," in Sogdian as "Den," and Kharazmi as "Den." Den derived from the word Daena means Soroush, which is the same as conscience.
It is an insight that Ahura Mazda instills in every human being to find the right path in life and pave it.
In Sanskrit, Gathas, and other parts of the Avesta, the word "daena" is used many times, occurring eight times. Den in the Gathas has been interpreted in various terms: faith, religion, Soroush, etc.