Today is Dey be-Den Izad, the 23 day of the Zoroastrian calendar; 17 Mehr
Death Anniversary of Dr. Habibollah Hedayat, the Father of Modern Nutrition Sciences of Iran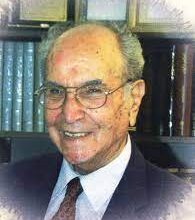 Today is the Dey be-Den day and the month of Mehr, 23 Mehra in year 3759 of Zoroastrian calendar, Saturday, 17 Mehr 1400, and October 9, 2021 AD.
After 70 years of his valuable services and scientific endeavors, Prof Habibollah Hedayat, the father of modern nutrition science of Iran, the founder of the Iranian Institute of Research and Nutrition Science, founder of the Iranian Institute of Nutrition and Food, passed away on Mehr 17, 1392, at the age of 93.
Professor Hedayat considered his scientific achievement to monitor the Iranian people's nutrition and nutritional needs. This assessment has been evaluated in 30 urban, rural, tribal, and industrial sectors, and the results of this research have been reported to FAO. The Third World is used as a reference for nutrition in developing countries.
Supervising the evaluation of the nutrition and nutrition needs of the people of Iran is considered as one of Prof Hedayat's scientific achievements. This evaluation of done in 30 urban, rural, tribal and industrial sections, results of which were reported to FAO.  At present, results of researches done in the third world on nutrition is used as reference in developing countries.  One of his main achievements have been foundation of the Institute for Nutrition and Food Industry of Iran.  With his tireless efforts Prof Hedayat succeeded in drawing the cooperation of WHO, FAO, UNICEF and also the cultural associations in France and England for development and advancement of this Institute, and as a result he could also send some of his technical staff and students to France for studying and completing their studies in this field.
Now that the Institute for Research in Nutrition and Food Industry, and the faculty of nutrition science and food industry is fully operational, it is worthy to note that they were established many years ago by Dr Hedayat in a few small rooms in Firoozgar Hospital.  When surveying the state of health of the workers in a few states, like Isfahan, Yazd and Kerman, he was so much moved by their poverty and nutrition deficiencies that he decided to solve this problem, which many of the people of Iran were suffering from.
He then turned to the most famous professor and nutritionist; Professor Plott, the Head of the Department of Nutrition at the University of London, went to the United Kingdom and returned to Iran after a specialized course. In 1940, he took the first step towards foundation of the Iranian Institute for Nutrition and Food. Founding the first school of food industry of Iran, directorate general of Health of Gilan and Tehran provinces were among his valuable works.  He has written 6 books and more than 30 textbooks on various topics. These books are among the best academic resources on nutrition and food industry for students.
Hedayat was born in 1296. He attended elementary school in his hometown, Shahreza, and went to high school in Isfahan. He entered the medicine faculty of Tehran University and passed all years with excellent grades. He then travelled to France to study obstetrics and gynecology, and at the same time, received a diploma in general health and occupational medicine.
He returned to his homeland in 1331 and started working in a clinic named Hafez. Because of his interest in social medicine and also his specialty, he decided to establish the Institute of Industrial and Occupational Health and obtained the consent of the Ministry of Health to study the health status of workers across the country.
The twenty-third day in the Zoroastrian calendar is called Dey be-Den. Dey means creator and God, and because there are three Dey in each month, to be specified, the name of the next day is added to it to separate them, "Dey be-Azar, Dey be-Mehr, Dey be-Den." In Avestan literature, Dey means Ahura Mazda, which is repeated many times a month due to the sanctity of this name. In Avesta, the names of the colleagues are called Ormazd Avagah, Se Dey Vispa Sham.
This day, which, like dey be azar and dey be mehr, means God or creator, is another holiday of the month.
Fenugreek flower is the symbol of this day. It is a day of group worship, and in ancient Iran, it was holiday.