Today is Khor Izad, the eleventh day of the Zoroastrian calendar: 5th of Aban (solar calendar)
Achaemenid navy on the Mediterranean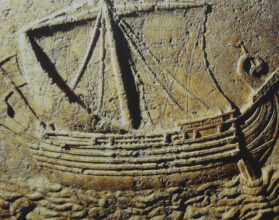 Today is the blessed day of Khor Izad, month of Aban, in the year 3759 Zoroastrian calendar, Wednesday, Aban 5, 1400 solar, October 27, 2021 AD.
Twenty-four centuries ago, on October 27, 398 BC, the famous admiral of Athens and several naval officers of that country were employed by the Iranian navy.
By the order of Ardeshir II, of the Achaemenid dynasty, the Athenian admiral "Conon" and his accompanying naval officers, who had taken refuge in Iran, were handed over to the famous Iranian general "Farna Baz", commander of the forces stationed in the west and northwest such as Egypt, Cyprus, Phenicia, and then took over several cities and put a stop to the invasion of Sparta (who had conquered Athens) in the Mediterranean, in the Aegean region. With this modernized fleet, General Fern بازndez defeated Sparta at Sanidos and then overran several cities in the Laconi region in the southwest of the Balkan Peninsula (not far from the Italian Peninsula) and invaded Sparta, which had defeated Athens ended in the Mediterranean and the Aegean region.
After the defeat of Sparta by Farna Baz, after nearly a century, Iran successfully implemented its military strategy in the Hellenic (Greek-speaking) world, creating a balance of power between the country and the cities of Greece and keeping them separate from one another in order to prevent the formation of another "Delos" alliance, and also putting an end to the Greek anti-Iranian conspiracy and revolt in Egypt and Cyprus. In pursuit of this policy, the then Iranian government provided financial assistance to some of those cities, countries, and Athens to rebuild the ruins caused by the lengthy Peloponnesian war, and rebuild their economy.
The Aachamenid Darius used the sea as a tactic to infiltrate his enemies. Hence, he launched the first stationary navy, which was also ready in peacetime. He introduced swimming, riding, archery and honest as mandatory parts of school teaching. Darius the Great was the first to bring three-story ships into a voyage called the Terry, and its oars were arranged in three rows on three floors.