Today is Vahman Amshaspand, the second day of the month in the Zoroastrian calendar, and 26th Aban of the official calendar
Death Anniversary of Ebrahim Pourdavoud: Avestan scholar and great Iranologist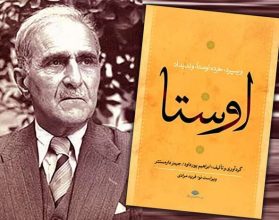 Today is Vahman Amshaspand and the month of Azar, the first day of Nabor, the day of abstinence from eating meat, Wednesday, 26th Aban, 1400, November 17th, 2021.
On Aban 26, 1347 (1968) Prof. Ebrahim Pourdavood, contemporary Iranologist, Avestan scholar, the first Persian translator of Avesta and professor of ancient Iranian culture and Avesta language, passed away, after years of learning and teaching Iranian culture passed away.
Ebrahim Pourdavoud is one of the prominent Iranologists. Pourdavoud is the founder of Iranian studies in Iran and is considered the reviver of ancient Iran's culture and languages. Pourdavoud was the first translator of the Avesta into Persian, who left behind many other works on Iran and its culture. Pourdavood is known as the first Avestan scholar and Iranologist, whose books on ancient Iran and the Persian translation of Avesta, are still used after nearly a century.
He was also the first professor of ancient Iranian studies and ancient Iranian languages at the University of Tehran. He afforded outstanding scientific services to the Iranian language and literature. On Pourdavood's 60th birthday in 1325 (1946), Tehran University awarded him a medal for his literary works and dignitaries such as Badi-ol-Zaman Forouzanfar, Parviz Natalkhanlari, Lotfali Sourtgar, and Mohammad Moin spoke at the ceremony.
At this ceremony, the then Minister of Culture, Ali Shayegan for the first time presented the first medal of science to Prof Pourdavood, on behalf of the Ministry of Culture. Pourdavoud was not only a prominent professor at the University of Tehran but also had international fame.
He devoted his whole life to reviving Iranian culture, and for this reason, as a well-known personality all over the world. The culture of this land is indebted to this man. Pourdavood also has written some poems. His poetry collection includes ode lyric poems, mossamat, tarji'band, and poems written during the WWI, with patriotic themes. Several poems related to his youth and old age can be seen in this Diwan. Pourdavoud named his poetry book after his only daughter, Pourandokhtnameh. In addition to the Dewan, he also has a story in the form of poem, named Yazdgerd Shahriar, which has 191 verses and is about the death of Yazdgerd III, the last Sassanid king.
Ebrahim Pourdavoud was born in a family of merchants on Bahman 20, 1264. His father's name was Davoud. After primary education, he studied Persian and Arabic at Haji Hassan School in Rasht, and in 1284 he went to Tehran with his brother and his teacher, Abdolrahim Khalkhali to study ancient medicine and also benefit from the teachings of Mohammad Hassan Soltan Al-Falasefeh. In 1281 (1902) he studied French language and literature in Louis School in Beirut.  It was there that he chose pourdavood as his last name. In Shahrivar 1289, he went to France, where he met Mohammad Ali Jamalzadeh. In 1292, with the help of Mohammad Qazvini, he published Iranshahr magazine, and in 1293, he went to Baghdad, and in the same year, with Jamalzadeh's help, he published Rastakhiz newspaper. In 1295 he studied law at the University of Berlin and then at the University of Erlangen. There he met Taghizadeh and collaborated with him in publishing Kaveh magazine. Collaboration with Taghizadeh and Mohammad Qazvini and acquaintance with German orientalists, including Josef Markwart, profoundly affected his thought and made him more and more interested in studying and doing research in the history of ancient Iran.
In 1303 (1924) Pourdavood returned to Iran with his family, and in Mehr 1304 (Oct 1925) at the invitation of the Parsis of Indi, he went to India and stayed there for 2.5 years, and he published parts of Mazde Yasni literature and a report on Avesta, and gave lectures, in Farsi, on the civilization of ancient Iran, including a description of the Verahram fire, the Mazde Yasni religious leaders, the calendar, and the difference of Mazde Yasni religion, farvardin, and lying in ancient and now-a-days Iran. In 1311 (1932), upon the request of Rabindranath Tagore and on behalf of the government of Iran, he went to India to teach the culture of ancient Iran, at the University of Visva-bharata. In 1312, he went to Germany from Bombay and continued translating and reporting on the Avesta. Finally, in 1316 (1937), he returned to Iran and started teaching at the faculty of Law and faculty of literature, Tehran University.
In 1317, he became a permanent member of the Iranian Academy. On the occasion of the 60th birthday of Pourdavood, a glorious celebration was held in the Assembly Hall of Tehran University with the presence of professors, scientists, students, and personalities of the country. On this occasion, on Mehr 16, 1325, a memoir was compiled and published in two volumes. One in Persian with detailed articles by Mohammad Moin about Pourdavopud and articles by Orientalists in foreign languages.
Pourdavoud, Iranologist, Avestan scholar, and the first Persian translator of Avesta and professor of ancient Iranian culture and Avestan language, retired from the University of Tehran in 1342 In 1346 (1967) he was awarded the title of distinguished professor of the University. After his retirement he spent his time reading and doing research and was less seen in gatherings. Finally, after years of active service in introducing the true Iranian culture to the world, and creating many masterpieces, Ebrahim Pourdavood passed away, on Aban 26, 1347 (Oct 1968), in Tehran and was buried in Rasht.
Pourdavood brought a peanut plant from Europe to Iran and cultivited it in Astaneh Ashrafieh, which is eaten as a popular snack now-a-days. One of Pourdavood's poems is named Mazde Yasni hymns, which he wrote in 1310 (1931), and for the first time Javad Badiizadeh sang it on the radio.  This hymn is taught in Zoroastrian educational centers, in Iran and India, juto date.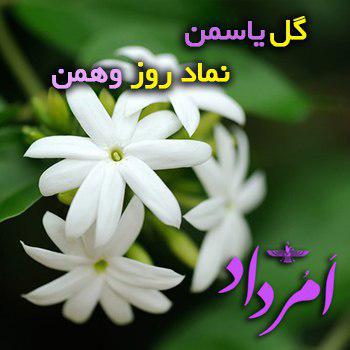 Vahman Amshaspand is the second day of the 30-days months of the Zoroastrian calendar.  The word Vahman or Vahuman is made of two parts: "Vohu" means good and fortunate, and "Manah" from "man" means thinking, knowing and understanding. Both parts put together mean good thought. Bahman is one of the features of Ahura Mazda, and he is the representation of good thought in the spiritual world. In Avesta, Bahman is called Vahumana, "man" in Persian literature means character, soul and heart.
He is the first creation of Ahura Mazda and one of the senior gods of Zoroastrianism. In the spiritual world, he is a symbol of purity of thought and wisdom of God. He benefits humans from reason, thinking, knowledge, and brings humans closer to the Lord of the universe. Vahman is the great Amesha Spentas (angel) and the great god who in his dream Zarathustra led our Spitaman to the presence of Ahura Mazda. Vohu Manah teaches man good and superior speech and prevents the man from talking nonsense and profanity. He is a 'good purpose' and a 'good mind' of Ahura and the first Amesha Spentas, and animal healer. The first day of Nabor is in the Zoroastrian month, and on this day, the Zoroastrians avoid eating meat. He has three disciples: Māh (moon), Drvaspa, and Rām. Good thought leads all people around the world to Asha, and bad thought misleads and turns them away from Asha. In the Gathas, the scenario of free thought and social democracy is visible. Vohuman is very important in the Zoroastrianism religion that it is said "The best life is to be reached only through Asha". The word Vohuman is mentioned 127 times in the Gathas.