As the 5th period of excavation in Chehrabad salt mine starts, ancient miners' lives are examined
Translated by Shabboo Goli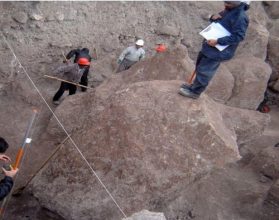 5th period of excavation in Chehrabad salt min began with the purpose of clarifying the unclear side of the lives of ancient miners (Achaemenid and Sassanid).
According to ILNA, Amir Arjmand, Director General of Cultural Heritage, Tourism and Handicrafts of Zanjan Province, said: "The fifth chapter of the excavations will be carried out by archaeologists of the General Directorate of Cultural Heritage of Zanjan Province together with professors and experts of the University and mining museum of Bochum, Germany, in order to reveal the valuable details about the lives of ancient miners and the technology and culture of the people of this land in the Achaemenid and Sassanid periods."
Director General of Cultural Heritage, Tourism, and Handicrafts of Zanjan added that Chehrabad National Salt Mine, famous as Duzlakh in the native dialect, is the most amazing archeological site in the country. A German delegation for this period of excavation comprises archeological experts in different fields, and this period will last for one month, until 14 Azar, 1400.
Arjmand added: "Due to the existence of many questions and incertitudes about the historical salt mine of Chehrabad, we intend to continue research and excavations in this historical site by using archaeologists and other related experts."
The Director General of Cultural Heritage, Tourism and Handicrafts of Zanjan reminded: "Also, excavation in Duzlakh mine has attracted the attention of a group of archeologists towards one of the less studied branches, namely, mining archeology."
Chehrabad is one of the few ancient salt mines globally and the only salt mine identified in Iran with data and evidence of salt extraction over a long period, from about 500 BC to current times. This ancient historical mine, located 70 km northwest of Zanjan, is one of the few historical salt mines in the world that became famous in 1372 with the discovery of human remains known as the Salt Man.