Today is Rashn Izad, the eighteenth day of the Zoroastrian calendar; 12 Azar solar
Birthday of Dr Jaleh Amouzegar, expert in ancient Iranian studies
Translated by Shabboo Goli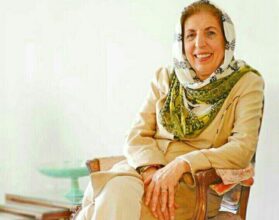 Today is a holy day of Rashn Izad and the month of Azar, the 18th of Azar in the year of 3759 Zoroastrian calendar, Friday, Azar 12, 1400 solar, December 3, 2021
12th of Azar is the birthday of Jaleh Amouzgar, a professor of ancient languages, a historian, translator, writer, researcher at the Iranian Culture Foundation, and a member of the Academy of Persian Language and Literature.
Dr. Jaleh Amouzgar is a professor in ancient culture and languages at the University of Tehran, who has been dubbed the "Great Lady of Ancient Iranian Studies." He holds a doctorate in ancient languages and Zoroastrianism literature from Sorbonne University and has taught at the University of Tehran for more than 30 years.
Among Amouzegar's works are "The myth of Zarathushtra's life" and "The Pahlavi language, its literature and grammar", and "The mythical history of Iran", with cooperation of Ahmad Tafazoli. Writing articles and translating ancient Iran's myths, languages, and religions, Pahlavi texts, and Zoroastrian Persian literature are among the most important fields of work of Dr. Amouzgar, and cooperation with the Iranian Culture Foundation can be considered a turning point in her life.
Iranology scholars and researchers in this field consider Amouzegar to be a pioneer in ancient Iran's studies, particularly interpreting Pahlavi texts, Iranian myths and Zoroastrian literature, and believe that her research texts are tools for teaching and learning ancient texts, since they are written in a simplified and resonant language. She is fluent in English, French, Turkish, Pahlavi, and Avestan.
One of Dr Amouzegar's most significant areas of study is research in the text "Fifth Dinkerd" which resulted in extending her scope of studies to ancient languages. Since Persian sources regarding Iranian studies were not available in a systematic manner, later on "Fifth Dinkerd" was published by Prof Philippe Gignoux through Paris University publishers.
This distinguished professor Tehran University has received many awards and medals, namely, nomination for receiving "A lifetime of distinguished efforts" award from the International Association of Iranian Studies in Khordad 1389 Prizes such as the de la legion d'honneur award from the French Ministry of Culture and the Iranian Cypress Award (in the field of cultural heritage) 1395 and the Iranian Cypress Award for a lifetime of scientific and cultural efforts and service to recognize the works and writings leftover from ancient Iran by the Iranian Studies Association of the University of Tehran in Dey 1395.
Jaleh Amouzgar was born in 1318 in Khoy. From 1347 to 1349 she worked as a researcher at the Iranian Culture Foundation. From 1349, she started teaching as an assistant professor in the Department of Ancient Cultures and Languages, University of Tehran. Since 1362 (1983) she worked in the post of assistant professor, and from 1373 (1994) upto date she is active as professor and researcher in the faculty of literature and humanities, Tehran University. Dr Amouzegar is member of the higher scientific council of the Islamic encyclopedia center, member of the consultative board of the Iranology Association of France in Iran, and also member of the group for selecting textbooks. This hard-working lady in ancient culture and languages, a member of the faculty of Literature and Humanities, University of Tehran, retired in 1385 (2006) with the highest rank of professorship.
Regarding the unique performance of this professor of the ancient culture and languages, by doing some research in Dr Amouzegar's scientific activities, we can mention the following: The works and books of Dr Amouzegar, some of which were written with the help of Dr Tafazoli, did a great help in better reading of the ancient Iranian scripts. Books, such as "Pahlavi Language, its grammar and literature", and "Iranian myths" are among the books that are written systematically and a simple and understandable language, and as a reliable reference, and source cited by many scholars and researchers in this field and as Manuals are taught in domestic and foreign universities."
Jaleh Amouzegar is also a powerful translator. The book "Examples pf early human beings", the first king in the mythical history of Iran, translated jointly by Jaleh Amouzegar and Ahmad Tafazoli in 1368 (1989) won the best book of the year and in the same year she received the commendation plaque from Tehran University. Among other works of this great teacher, we can mention "Ancient Iran",  "Marijan Moli", "Knowledge of Iranian myths", "The myth of Zarathushtra's Life", "Ardavirafnameh", Pahlavi Language, its grammar and literature", "Mythical History of Iran", "Language and Culture", "The method for supervision", participation in the efforts taken to print the book on pre-Islamic history of literature, revision and reprinting of the book "Meynooye Kherad" (heavenly wisdom) and supervision over the translation of the book of Achaemenid inscriptions by Pierre Lecoq.
Other works written or translated by Dr Amouzegar include "The mythical history of Iran" in the "Iran" section of the Islamic Encyclopedia. Dr Amouzegar has more than 13 book, 57 scientific, research and promotional articles, in Persian, seven papers in English, 29 lectures in universities and scientific and international conferences, and membership of the editorial board of 8 domestic journals in her research activities.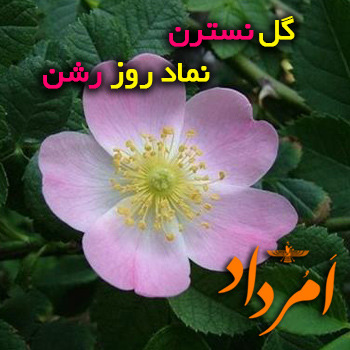 In the Zoroastrian calendar, the year is divided into 12 months of 30 days each day with a name. The 18th day of each month is named Rashn.
Today is the 18th day of the month in this calendar, which is called "Rashn". Rashan (Rashno) – God of justice and divine judgement, God of righteousness and justice and one of the Izads of the after world and one of the judges of the day of judgement. Rashn Izad is an enemy of thieves and bandits. In the prayers in praise of Rashn, after praising Dadar Urmazd, there is reference to Rashn, the bearer of the judgement scale. The Izad of justice is also one of the Izads helping Amordad Ameshaspand, along with Mehr and Sraosha Izads.
Rashn Yasht is the 12th Yasht of Avesta worshipping Rashn Izad.
Sweetbrier is the flower symbolizing Rashn Izad.
In the list of Iranian days, in his book "AL-Athar Al-Baqiyeh" (p.73) Biruni has called this Izad Rashn. In the Sogdian language it is called Rasn in Khwarazmi. In Persian literature, this word is used as "rash" without N.
Some great poets, including Ferdowsi, Khowsravi and Masud Saad wrote poems about Rashn Izad.