1000 copies of Khordeh Avesta printed from the donation of the family of late Anahita Varjavand
Translated by Shabboo Goli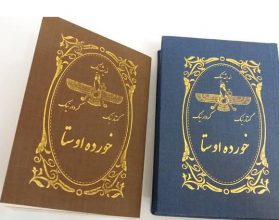 On the 30th anniversary of the death of this young Zoroastrian, the family of late Anahita Varjavand helped to publish 1000 copies of the Khordeh Avesta by paying for the printing.
With the help of Ms. Azarmidokht Hormozan and Armita Varjavand, the late mother and sister of Anahita Varjavand, in the thirtieth year of her death, 1000 copies of Khordeh Avesta were printed by Barsad publishers and are ready to be delivered.  Their good deed in helping to preserve and strengthen the precious culture and traditions of our land, Iran, is much appreciated.  May the memory of Anahita Rashid Varjavand live with us forever.
The late Anahita Varjavand, daughter of Azarmidokht Hormozan and rashid Varjavand, born in 1965, in Tehran, completed her higher education in English translation. After that, she completed a religious course at the Zoroastrian Youth Organization (Fravahar). Due to a disease, the late Anahita Varjavand passed away on January 19, 1992.