Today is the holy day of Mah Izad and the month of Bahman, a "nabor" day (abstinence from eating meat), Wednesday, 6th Bahman, 1400, January 26th, 2022.
Susan Aslani is a composer, teacher, Santur player, and conductor, born in Tehran on January 27, 1948. She is remembered as the first lady conductor of the Orchestra of Iran.
There have been many artistic couples, in the history of Iranian music, who have together developed and spread the music and culture of Iran. Professor Hossein Dehlavi and Prof. Susan Aslani are among these great musician couples. Hossein Dehlavi, a veteran musician and composer, is the conductor of the Orchestra of Iran and a member of the Iranian National Conservatory of Music, and Susan Aslani, a veteran composer and santur player. Her father was a poet and musician and play the tar, and her mother was a tambourine player. After completing her primary education, she entered the National Conservatory of Music in 1963, under Mehdi Meftah, and played the santur with Faramarz Payvar. She also learned radif in music from Mahmud Karimi, and took lessons in harmonic and composition of music from Hossein Dehlavi. After her bachelor degree, she taught santur and accompanying instruments. She benefited from famous Iranian masters, namely, Faramarz Payvar, Mahmoud Karimi, Arfa Atraei, Mohammad Heidari, and her husband, Hossein Dehlavi. Mrs Aslani has won the first-class order in the music art, and so far, in addition to teaching and playing, she has composed many songs and tunes in traditional and local music, some of which have been published in the album "Songs and Pieces".
Since 1986, she has given various concerts at home and abroad, such as: attending the APEC Summit in Venezuela and interviewing and performing on Caracas TV, attending the Sarajevo Film Festival in Bosnia and television interviews, participating in Cultural Week programs in Turkmenistan, India, Hungary, and Ukraine, holding a recital in Germany (Berlin) and a TV interview, participating in the commemoration of Professor Hossein Dehlavi in Canada together with a performance; performances in Mexico, England, Kazakhstan, Uzbekistan, Turkmenistan, Cyprus, Belgium and … She has participated in all these programs with her group called Khojasteh.
Among her published works is a solo santur with tonbak, by Siamak Basiri, by the name of "Khojasteh", in the division "Nava" and "chahar-gah", a CD named "Booye parchin", with Ali Rostamian's voice, inspired by local music, in the division of "shoor" and "dashti", and a collection of pieces from the "Spring dance" album with Alireza Mohammadi's voice (Golbang) in "Isfahan" radif. Also, albums of duet santur in division "Nava" and a collection of pieces and tunes named "spring dance" have also been published. An album named "The lost look" consisting of 7 songs in 7 divisions sung by Alireza Golbang have also been published by Avaye Barbod Publishers. In this composition the player of each instrument is introduced and this is a good guide for those who wish to have some idea of Iranian music.
An album of a collection of pieces in "Nava" and "rast panjeh" radif includes various instrumental and vocal pieces, and the memorial album of Master Mahmoud Karimi (video) performed by the Khajasteh group and their singer, Mahmud Bagheri, performed in Rudaki Hall in the "shoor" division. Also, an album of the Khojasteh group's music which was performed in Vahdat Hall, with the voice of Ali Rostamian has been published. Susan Aslani is presently continuing her musical activities and at the same time teaches santur. In 2016, the Department of Culture and Communication went to Belarus to introduce a group of women artists and performed a beautiful program on Yalda night.
On November 25, 2017, Mrs. Aslani performed a concert in Berlin with Siamak Aslani and Shohreh Ghiasi in favor of the earthquake victims of Kermanshah, which was warmly welcomed by the Germans and Iranians living in Berlin. On December 12, 2017, Mr Aslani attended an event in the Institute of Veteran Artists and there she handed over the donations of the Iranians and the Germans living in Berlin, in support of the Kermanshah earthquake victims, to the respective organization. Nowruz 2018, the Khojasteh group performed in Thailand, and on December 30, 2018, a concert was held at Roodaki Hall as a dedication to the Institute of Veteran Artists. This performance whose singer was Davood Ghiasi, and the player was Mahmud farahmand, member of the institute of verteren artists, was repeated in Arasbaran cultural Center, in 2019.
The 12th day of each 20-days month in the zoroastrian calendar, is named "Mah (moon). Mah (moon) is written as Mavankahe. In Aesta mavankahe is the 7th Yasht offered to Mah (moon). In mah niyayesh there is mention of Mah Yasht.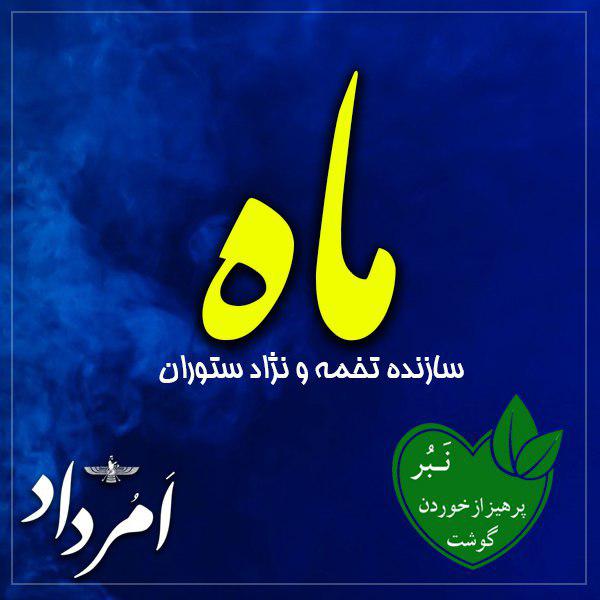 In Avesta "Mah" produces seeds, and animal and human breeds, and also cultivates plants.  "Nabor" means abstinence from killing animals and/or eating their meat, on those 4 particular days.  But fasting during the day is considered improper and therefore not encouraged. Instead, every month, on the four days named Bahman, Geush, Mah and ram, abstinence from killing/eating meat is to be followed. In Avesta, the care of livestock has been ordered.