Birthday of Mehdi Akhavan Saless; a modernist poet, and researcher in music
Translated by Shabboo Goli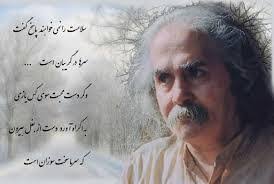 Today is holy day of Mehr Izad and month of Esfand of the year 3759 Zoroastrian calendar; 10th Esfand, the year 1400 official calendar, and February 29, 2022 AD.
Mehdi Akhavan Saless (known under his works as M.Omid), a famous poet, writer, and music researcher, was born in Mashhad on the 1st of March, 1929. One of the modern poets with an influential and stylistic expression, his poems have a social background and sometimes depict the events of people's lives.
His poems have an epic tone mixed with sophisticated Khorasani style, and contain new and fresh structure. Akhavan Sales was capable of classical Persian poetry and later turned to contemporary poetry. He wrote poems in both styles. He was also good at playing tar and had the knowledge of maqam (in music).
His father, Ali, was one of three brothers who moved from Yazd province to Mashhad, and for this reason, they added Saless (meaning three) to their family name, Akhavan.  His mother's name was Maryam. His father was a native of Yazd who came to Mashhad as a young man and lived and married in this city.
Akhavan Saless continued his education in Mashhad and in his teen years turned to poetry, and chose the olden form of poetry at the beginning. He finished his blacksmithing course in Mashhad vocational school, in 1947 and started working in the same field. In his twenties, he went to Tehran and chose the teaching profession.
In 1951, Akhavan Saless published his first collection of poems called Organum. He published the "winter collection" in 1956, which became the beginning of a new movement in culture and art.  In 1957 he started cooperating with the national Radio Organization and later on he was transferred to Khuzestan TV Organization. He returned to Tehran from Khuzestan in 1974 and worked for the National Radio and Television of Iran. In 1977, he started teaching the Samani style and also contemporary poetry in Tehran University, Melli University and Teachers Training School.
In 1981, he retired without pay and was deprived of government jobs. Akhavan Saless experimented his poetic talent in composing classical style poetry (ode, in the style of ancient poets of Khorasan, especially Manuchehri) and lyric poetry (one of the works of his period) in a new manner (in the style of Nima, like Zemestan collection). He, who had a remarkable ability in composing classical poetry while preserving the classical values of Persian poetry, also tried neo-poetry. The rigor and glory combined with modernity in the poetry of Akhavan Saless, who was also familiar with musical instruments, created a unique style in his poetry.
Regarding his pseudonym, Akhavan Saless would say that in Khorasan, when he had just started writing poems (years 45-46), he was invited to a literary association in the presence of Professor Nosrat Maneshi Bashi. Whenever Prof Bashi would listen to his poem, he would ask what the pseudonym of the poet was; he thought that all poets should have a pseudonym, and Akhavan Saless didn't have such a name, until he finally chose the name "M. Omid" for himself.
He went abroad for the first time in 1990 at the invitation of the German House of Culture to hold a poetry night from April 4 to 7 and died at the age of 62, a few months after returning from this trip.
Organum, Winter, The end of the Shahnameh, From this Avesta, the lyrics named "hunting", Autumn in the prison, Romantic and dark, The best Hope, Life says: But you must live again, In the small yard of autumn in prison, Hell but cold, O my ancient land, I love you.
Dandelion!,
Say, from where you are coming,
From where and what news you have brought?
May you bring good tidings!, but
In vain your roam
Around my roof and door.
I don't expect any news,
Neither from a friend, nor from a native district;
Go to such a place where ears and eyes watch you;
Go to such a place where they expect you.
Dandelion!,
Everything is blind and deaf in my heart,
Stop lurking here where the self is a stranger to is soul;
You who have always brought bad news.
I tell my heart:
"You are false, o you are false,
You are a cheat, you are a cheat.
Dandelion!, o, but … alas…,
Did you leave with the wind?
I'm speaking to you! Where did you go? o
Is really any news anywhere still?
Has a warm ash still survived
In a hearth – I don't covet a flame – but does a small still exist?
Dandelion!,
The clouds all over the world
Weep in my heart all the day and night.
(Translated to English by M. Alexandrian)
In the encyclopedia of the Persian language, Mehr is considered an Izad (god) of love, friendship, and wisdom in spiritual works, and is connected with the month of Mehr (the seventh month of the solar year) and the day of Mehr (the sixteenth day of each month). Mehr, who is called "Mithra" in Avesta, is one of the great gods before Zarathushtra, called the god of light. Mehr Izad is the guardian of love, warmth, friendship and the wisdom to find wealth. Mehr, in another version, means the sun.
Mehr Izad is witness to the actions taken by two parties in a dispute. Wherever there are two parties to a dispute Mehr is present to establish justice, peace, promise and commitment. Mehr is one of the most important deities in Zoroastrianism. He is one of the three deities whose name is given to one of the 12 months of the year.