Theory of the "Union of the Ancient Continent of Iran" against the concept of political geography "Eurasia"
Translated by Shabboo Goli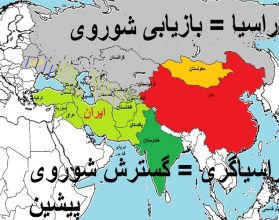 Since the agreement on Iran's share of the Caspian Sea and then the Nagorno-Karabakh war on Iran's borders, unfortunately, we are now witnessing another war on our civilization borders in Caucasus – northern Iran.
Meanwhile, applying the concept of political geography "Eurasia," which has the political ideology of Russian Eurasianism at its heart, is very dangerous for Iran. From the political/geographical point of view, the concept of "Eurasia" is the advance and expansion of the former Soviet Union towards Asia-Iran, established in Russia in the eighteenth century.
In contrast, Iran, as the oldest continuous civilizational-political unit, in order to maintain Iran's security, freedom and independence in this critical and tense situation of history, should take a different approach toward the autonomous republics of this ancient region, namely, the Caucasus. And, this is based on our shared cultural and historical background of thousands of years, because it is clear that wherever Iran is not present, its enemy will take over.
Following the example of the European Union, Iran should also form an Iranian union with Armenia and Tajikistan in the first place. My suggestion for the name of this union is: "The ancient continent of Iran."
Undoubtedly, the Persian language and script will be this union's shared language and script. Making military alliances to maintain lasting peace and friendship in the Iranian civilization area is of prime importance.
Also, from an economic point of view, Iran must first set up a joint banking system. Secondly, to strive for joint production under "Ancient Continent of Iran."
Also, from a cultural point of view, the establishment of joint art festivals, especially in music and film, and the offering of a prize called the "Ancient Continent of Iran" are among the first steps.
As regards sports, also, we will hold competitions in various fields and design "Ancient Continent of Iran" medals.
Iran, thanks to its glorious cultural and historical reputation and the heavyweight of its civilization, can achieve its position much sooner than expected in both the Caucasus-Northern Iran and Eastern Iran (incorrectly called Central Asia).
Finally, as a theorist of the Union of the Ancient Continent of Iran, I reiterate and emphasize that the goal of this project is to protect and maintain security and prosperity, and establish lasting peace and friendship in the Iranian civilization area.