Do you know what the "legendary flower of Iran" is? Overturned tulips (Fritillaria)! Although this beautiful flower is one of the rarest plants in the world, our Zagros is covered with such tulips. Examples of these plains can be found in the overturned tulip fields of Aligudarz.
Aligudarz is one of the districts of Lorestan province. It has a cold and mountainous climate and is full of places of interest for tourism, such as the Aab-Sefid, Chakan and Varag waterfalls, the Samandar mountain range which is itself full of eye-catching scenery. It is not without reason that every year in spring, many tourists go to those green spots of Iran's nature.
We said above that the climate of aligudarz is cold; it is better to say it is chilly! Because it is located in a mountainous area and is considered one of the highest districts in Iran. Alos, in those sky high mountains the snow melts, and thousands and thousands of red tulips emerge from the earth to display their beauty, especially in the foothills of Dareh-daie Mountains. Fritillaria can withstand cold and mountainous areas. They are considered native plants of Iran, and 15 species have been identified in the Zagros. They are not afraid of rocky ground, and they are restless to get out of the earth! The characteristic feature of overturned tulips is the stems bent in half from the ground. That is why they are called "overturned." It is as if they take please in watching the earth that they have spring from. Overturned tulips are also called "tearful flowers"; because a drop of water continuously flows between its petals, like an apparent tear.
To see the Fritillaria of Aligudarz, you have to go about 40 km southeast of the city, walk along Shulabad road, and pass the villages of and Khalilabad to see this scenic plain. It is called "Dalani Plain", a plain that comes to life in spring and fascinates every viewer.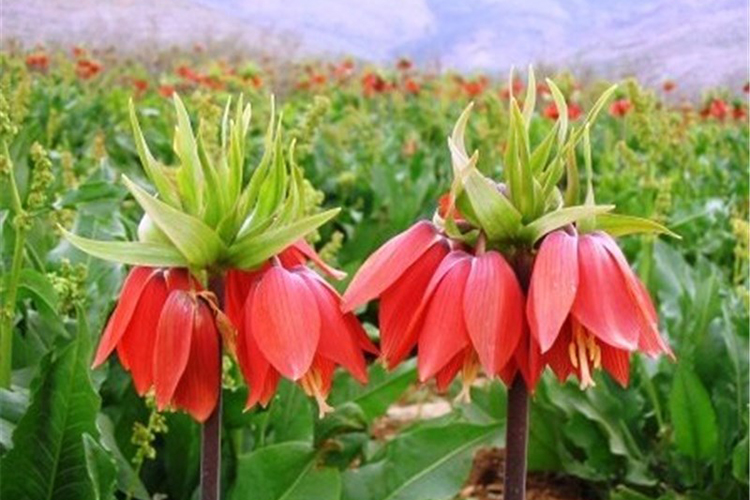 Dalani plain covers an area of hectares. It spreads over the heights of Oshtrankooh, and is surrounded by high mountains, such as Morzarin, Qalikuh, Shahkol, and Nesartakht. In April and May, these mountains and vast plains are covered with overturned tulips. There, when the wind and spring breeze blows, it is beautiful, and the villages of Dalani, Durak, Morzerin, Darehdaei, Abbarik, Khalilabad, Chagha Gorg, Morashkhak, Khak Betieh, Handileh, Tappeh, Golk, Arjanak and Gelehmoyeh, and many others have the same views. No other place will you find as green. You should not miss seeing those pleasant areas, mountains, and villages.
In the beautiful plain of Dalani, two rare species of overturned tulips grow; one is "Lily of the Chandelier," and the other is "Tears of Mary." Their growth begins in the last days of April, but they have a short life and are gone with the first heavy spring rains, leave alone that in the same short life span, there are tourists who pick them up selfishly and deprive others of seeing and enjoying the Fritillarias. So much so that the width of those plains decreases every year, and the number of overturned tulips decreases.
Extensive plantations in the overturned tulip plain of Iran are of concern to those who love the environment. The fact is that many of us have not learned how to deal with nature and its hallmarks.  Digging up flowers and plants is an example of irrational and harmful behavior. It is even more unfortunate to know that overturned tulips disappear and wither only a few hours after being picked. Even planting onions in pots is fruitless and does not cause flowering. So what other name can be given for digging overturned tulips except for human selfishness and greed?
The overturned tulip plain of Aligudarz was registered in the list of natural monuments of Iran in 2019 with the number 680.
* Using websites: Tasnim; Iran Tourism Site; IRNA News Agency.