National registration of: 1) The technique of weaving tir-o-baud bracelet, and 2) the atashbam (lighting fire on rooftops) ceremony
Translated by Shabboo Goli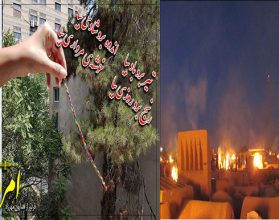 The skill of weaving tir-o-baud bracelet and its related customs in the celebrations of Tirgan, and also the ceremony of atashbam and panjeh, along with 16 other ceremonies from Yazd province, have been registered in the national list of intangible cultural heritage.
These 18 cases have been registered in the National List of Intangible Cultural Heritage on Azar 1, 1400. According to Aria Heritage News Agency, Ali Darabi, Deputy Minister and Deputy Minister of Cultural Heritage announced the registration of 18 national customs in the national list of intangible cultural heritage to Yazd governor, Mr Mehran Fatemi. These works are as follows:
Mat waving of Bafgh, No. 2452
Skill of cooking black lentil broth, No. 2453
Skill for preparing the ceremonial Abu dardad soup, No. 2454
Skills of baking Komach bread, No. 2455
Baroono ash (soup) ceremony (praying for rain), No. 2457
Skill for cooking meat komach (meat pie), No. 2458
The ceremony of cooking bibi seshanbeh (Tuesday) ash (soup), No. 2459
Skill for preparing gormeh sabzi (herbal stew), No. 2460
Skill for baking sweet Qotab, No. 2461
Tablecloth weaving skills and related ceremonies, No. 2462
Skills of cooking Alaf Kaddi soup, No. 2463
Abarkooh Changal baking skill, No. 2464
Skills for preparing Razqou, No. 2465
Sheshe Ceremonies, No. 2466
The skill of weaving of Tirobad bracelet and its related customs in the Tirgan celebration, No. 2467
Zoroastrian ceremony of lighting fire on the rooftop (tashban) and the related panjeh, No. 2468
Ceremony raising Hosseinieh Charkhab Ardakan, No. 2469
Nazar Gereftan in Bafgh, No. 2470
In addition, during the tenure of Ali Asghar Mounesan, the former Minister of Cultural heritage, tourism and handicrafts, a similar letter was addressed to the then governor of Yazd, in which the intangible cultural heritage entitled "pomegranate festival" and its related ceremony under No. 2301 was included in the list of intangible heritage and registered on 11/28/1399 (2020).