One of the sightseeing roads of Iran (12)
Sepidan-Noorabad road; Crossing vast plains
Translated by Shabboo Goli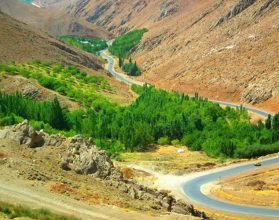 The vastness of our land has led to the construction of roads that facilitate traffic. The geography of Iran, which is a range of mountainous parts and plains, and deserts, has given those roads different shapes. One of the sights of the routes of Iran is in a place that is full of plains and fields, and passing through it will be a pleasant journey: roads from Sepidan to Noorabad!
In the west of Far province, Sepidan district is spread out.  Sepidan is neighbor to Marvdasht, Shiraz and Mamasani, and borders Chahar Mahal and Bakhtiari province. It is also a rest place and a stopover for Qashqai tribes. During the yearly migration of Qashqai's the uproar of color can be seen, and the sound of a caravan of happy and lively people can be heard.
Noorabad, also, is the center of Mamesani district. Mamesani's history dates back to ancient times, and its habitat is rare in beauty and attraction. This city is located in the west of Shiraz and is a familiar name for those looking for tourism in Iran. 160 km is the distance between Noorabad and Shiraz. The climate of Mamasani and Noorabad is pleasant and temperate, and especially in spring, it is desirable. For those who live in metropolitan areas, breathing such clean air is of special advantage. The Sepidan-Noorabad road is the one we want to know more about on our road trip.  This road is 84 km long.
We see on the Sepidan-Noorabad road the boundless expanse of plains, fields, cultivated lands, and sky scraping mountains. Many green trees of the Iranian ecosystem can be seen on this beautiful road; Trees such as oak, wild almond, poplar, raspberry, pistachio, and many more. Medicinal plants can also be found and obtained there.
But dense trees are only part of the route. Extensive plains of colorful flowers, running water, and abundant springs must also be considered to know why we have chosen this spectacular road.  This is the road where we can see the Margoon falls. Margon is considered the tallest waterfall in the world, 70 meters high. The width of this waterfall reaches 100 meters, and its temperature is not less than 10 degrees Celsius, even in the hottest months. This waterfall is the border between Fars and Kohkiluyeh, and Boyer-Ahmad provinces.
On this pleasant road, seasonal springs come out of the ground, and travelers stop by to feel its coolness across the road, and breathe the fresh air. You can even pause on one of the mountain slopes where the road passes and take a short walk. Traveling on the Sepidan-Noorabad road is indeed a different tourism experience from cities and villages, and is equally refreshing and spectacular.
On the road from the village "Fahlian" to a village called "Rudshir" all we see are flowing rivers.  We should mention here another village called "Strait of Rudian, Ziari's enemy", appearing on this road. These and several other villages make the road to and from Mamasani so joyful. For travelers on the Sepidan-Noorabad road, another sightseeing place is the Dehgard water cave. This cave is located at Noorabad intersection and near a village called Golgoon. This cave is spectacular and entertaining and is one of the tourist destinations in that area.
Traveling on the Sepidan-Noorabad road will be even more beautiful when we drive in spring or summer. Whatever we expect to find on this pleasant road trip will in front of our eyes during these two seasons. While using the smooth and easy asphalt road, we will enjoy the sight of its breath-taking nature. But those who risk winter travel will find other beauties along the way during the snowy and rainy months.
Using of: "Shiraz Novin" websites; "Iranian Studies"; ILNA