Shahindokht Sarlati was an exemplary national entrepreneur born in Isfahan on April 19, 1933. By creating a rose field, she decided a different fate for a region's agriculture.
Shahindokht Sarlati is better known by the name, "Lady of the red rose", given to her by the people of Lalezar village of Kerman, than her own name. "Lady of the Red Rose" was born in April 1933 in Isfahan and completed her philosophy and educational sciences studies at the University of Tehran. If we look for efficiency among Iranian women in industry and entrepreneurship, we can mention Shahindokht Sarlati. The first remnants of Mohammadi flowers were introduced to the Lalehzar area of ​​Kerman in 1977 by Homayoun Sanatizadeh from Kashan, and with the installation of several traditional distillation boilers for "Zahra Rose Water", this project started off.
With the entrepreneurship of Shahindokht Sarlati and Homayun Sanatizadeh, and the area's economic prosperity due to the rose gardens, the reverse migration of residents from Kerman to Lalezar began. The formation and development of the rosewater-making industry took place in three decades of direct management of this hard-working lady. She dedicated her life to work and job creation, and in the last year of her life, she was introduced and thanked as a model entrepreneur in the country. Lady of the Red Rose died in a car accident on February 10, 2005, buried in Lalehzar, Kerman.
Franklin Publishing House was the masterpiece of Homayun Sanatizadeh, established in 1966. Homayoun Sanatizadeh made innovations in Franklin Publications. One of the most brilliant works of Homayun Sanatizadeh is printing of a Persian encyclopedia.  He came to realize that he should create an all-inclusive Persian reference book.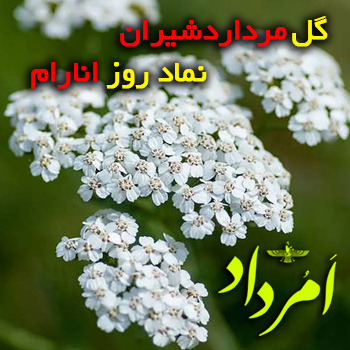 The 30th day of the month is Aniran or Anarom, meaning eternal light of the spiritual world. In Avesta: it is "Anghreravacha". Anaram means "endless light." As per Zarathushtra's teachings:  Those who live by good thoughts, words, and deeds, and fight against lies and impurity, will eventually rush to the abode of light and joy, which is full of joy and happiness for them. This is the last house and the place of endless light. Zoroastrians like to travel on this day and praise Ahura Mazda for his good creations. The flower of "Marv Ardeshiran" is a symbol of Anaram in the Zoroastrian religion.