In Remembrance of Parviz Shahriari; A Prominent Figure in Modern Mathematics Education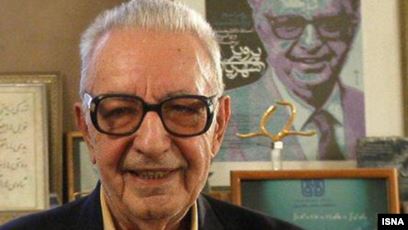 Mathematics is the study of understanding the meaning of life and stems from all dimensions of life. There is no mathematics subject that cannot be used in life. These are some of Professor Parviz Shahriari's words. He is a prominent figure in mathematics, and translator of some significant works of philosophy and science, journalist, author, and teacher of mathematics books. He was born in 1926 in Kerman.
Parviz Shahriari was born into a Zoroastrian family on November 24, 1926, in Kerman. His father was a peasant who worked for landlords. After his father passed away, his mother (Golestan Shahriari) was in charge of the family. His childhood was a difficult time to live.
He studied at Kaviani Elementry School and Iranshahr High School in his hometown. He graduated from Daneshsara-ye Moghaddamati in 1944, and then moved to Tehran. He was one of the most famous teachers in mathematics, and a prominent figure of Iran in modern mathematics education.
Shahriari graduated from the University of Tehran and Institute of Higher Education (current Tarbiat Modares University) in 1953 with a degree in mathematics. He was a teacher in Shiraz for a year and returned to Tehran in 1954. In those days, he was a teacher at Andisheh High School and high schools affiliated with Kharazmi Cultural Group. He was also a teacher at the University of Tehran's Faculty of Engineering, day and night classes in Tarbiat Modares University and the University of Arak. In 1960, Shahriari held the first class for the university entrance exam, called Kharazmi Cultural Group, and tried to provide a proper environment for the growth of the Iranian youth by founding Kharazmi High School for boys.
Parviz Shahriari founded Marjan High School in 1961. With the association of 170 teachers, he established Kharazmi Publications in 1963 and founded Marjan Cultural Group in association with 700 teachers in 1971. He also founded Touka Publications with a group of friends, and then established the University of Arak in association with Dr. Abdolkarim Gharib and Dr. Hossein Gol-e-Golab, Shahriari established Touka Publications.
Parviz Shahriari was proficient in French and learned Russian in 9 months with a self-taught method, then started writing and translating in addition to teaching mathematics. His first translated book, which was very fluent, was 'History of Arithmetics' by René Taton, published in 1950.
Between 1965 and 1980, he wrote and translated hundreds of volumes on mathematics education and history, affecting the intellectual development of students due to his brilliant works. Shahriari was also chief editor of Sokhan-e Elmi magazine published in 1962.
His other scientific activities included publishing 'Andisheh Ma' monthly magazine and his first book 'Mazdak va Mazdakian', preparing a math textbook for the first grade of high school, becoming chief editor of Vohooman weekly magazine whose last issue was published on August 19, 1953, and working in Andisheh High School from December 25th, 1959.
Shahriari was chief editor and founder of more than 5 magazines, including Sokhan-e Elmi, Chista, Danesh va Mardom, Ashti ba Riaziat, and Ashnayi ba Danesh.
He received an award from the Ministry of Education, Dr. Khanlari, in 1966 for his scientific services, and 'Order of Science' badge in 2005. He was also recognized as a scientific figure in mathematics education in 2002. In addition, the University of Kerman awarded him an honorary doctoral degree in mathematics.
His achievements include:
Order of Knowledge, 1966.
Order of Glory, Society for the National Heritage of Iran, 2001.
Honorary doctorate in mathematics, University of Kerman, 2002.
Scientific figure in mathematics education, Chehreh-e Mandegar-e Elmi ceremony, 2005.
Great living mathematician of Iran, Iranian Mathematical Society (this association collaborates with the Mathematical Societies of the United States and France), 2008.
Professor Shahriari has written and translated more than 400 books, and more than 1000 articles published in scientific and cultural magazines.
The life and memories of the great scientific and cultural man of Iran are mentioned in some works, including a Festschrift in honor of Dr.Parviz Shahriari, Arjnameh Shahriari, after 88 years of a fruitful life: Biography of Professor Parviz Shahriari, Who is the star of numbers (Parviz Shahriari) and what did he do?, and 'Fanous Golestan' a documentary film.
Dr. Parviz Shahriari, a master of mathematics and a Zoroastrian prominent figure in Iran, passed away after 88 years of valuable life and was buried in Zoroastrian cemetery 'Ghasre Firoozeh' in the east of Tehran.