What happened to "Cyrus the Great" movie?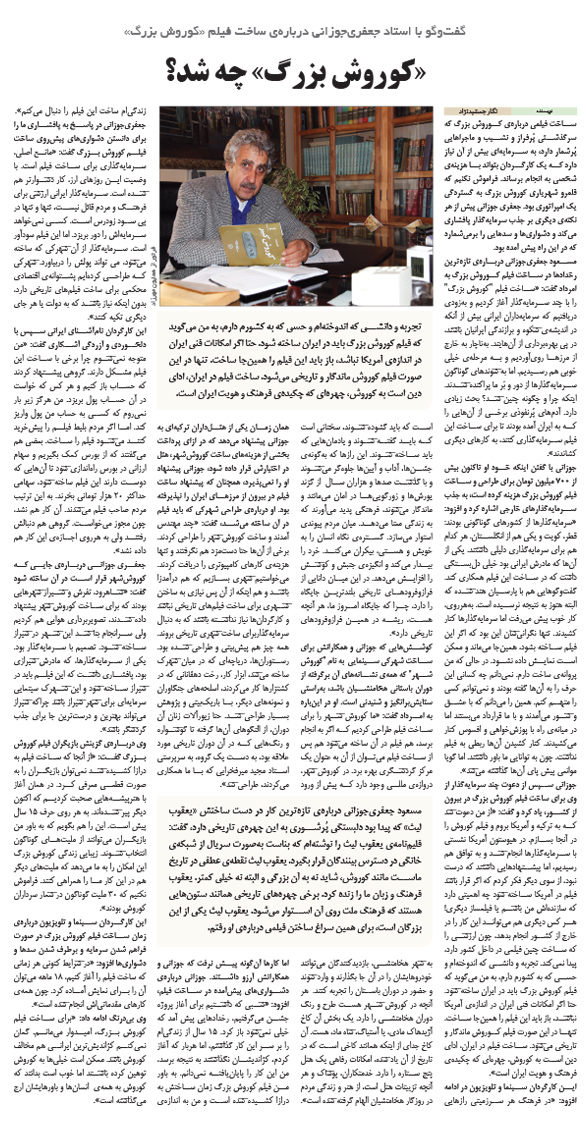 Making a movie about Cyrus the Great incurs numerous difficulties, and requires more funds than a director can invest by himself. We should keep in mind that the kingdom of Cyrus the Great had the vastness of an empire. Jafari Jozani insists on finding an investor before anything else, and is counting the hardships and obstacles he is facing.
Jafari Jozani talked with Amordad about his latest ongoing project "Cyrus the Great":  "We started making the movie with a few investors, and soon realized that Iranian investors were more interested in exploiting the Iranian people rather than thinking about their pride and identity.  So, we started looking for investors outside Iran, and had made good progress, but for various reasons, the investors got disinterested.  Why and how did this happen?  There's much to be said on it.  Influential sources lured some of those investors to other businesses.
Mentioning that he has spent more than 700 million tomans in designing and filming 'Cyrus the Great"  Jozani pointed out to the subject of attracting foreign investment and added "The investors came from different countries: Qatar, Kuwait, and one from the United Kingdom. Each of them had a reason to invest. One of them, whose mother was Iranian, was very interested in collaborating on the movie."
The efforts of Jozani and his colleagues to build a cinematic town, which is named "The City of Cyrus", a city filled with Achaemenid symbols, is truly commendable. "We designed this city for this movie, which, if completed, will be both used as a site for filming this movie, and also, after its completion, it can become a tourist center.
In this City, before entering, there is a national gate which visitors can leave their cars there and enter and experience the presence of antiquity," he told Amordad.
You read part of Amordad's conversation with Masoud Jafari Jozani entitled "What happened to Cyrus the Great?" published in the latest issue of Amordad, in August. Readers can also use the following ways to access Amordad Weekly also at the newsstands and agencies.
Amordad Weekly Email Subscription Link
Online sales of Amrdad weekly, issue 432
Also read:
I Will Make a Movie about Cyrus the Great; My Next Movie Will Be about Ya'qub ibn al-Layth