National Register of Zoroastrian Needlework
"Zoroastrian needlework", the handicraft of Zoroastrian women, was registered nationally as an intangible cultural heritage in the list of national artworks.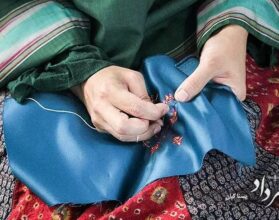 Zoroasrian needlework (gabar doozi) or flower embroidery, is an old and a fine art of Zoroastrian women that dates back to almost 100 years.  The thread used is of national twisted silk.  Fine spun fabric is used for this purpose.  We can say that the basic tools for this art have been very fine needles, silk or cotton thread and silk or cotton fabric.
Zoroastrian women have learned this art through generations, from masters of this art.  The flower motifs can been seen in the traditional clothes, such as makna, shaval (pants), lachak (scarf), shirt and sweatshirt of the groom, and dolug (cloth bag). The flower pattern was not drawn on the fabric and it was sewn according to the sewing order and sometimes by counting the fibers. Flower designs are sewn on clothes meant for happy occasions.  Cypress tree, flowers, birds and well-thought-of animals such as deer and fish, can be seen often in the designs, all of which are signs of life and happiness and are in harmony with the Zoroastrian traditions and beliefs.
According to IRNA – Director General of Cultural Heritage, Handicrafts and Tourism Organization of Tehran Province said: "in the meeting of the Intangible Heritage Registration Council, 6 artworks from Tehran were registered as local and one artwork was registered as national."
According to IRNA and the Monday announcement of Tehran's Cultural Heritage, Parham Janfeshan stated that 6 intangible artworks were registered in the last meeting of the country's cultural heritage registration committee. He added:  "These intangible artworks are as follows the skill of preparing concentrate of berry, nuts and walnut contents, cooking broth of Baghi, cooking Shesh-Andaz-e Alou, cooking pomegranate soup, cooking Koofteh-dast-be-gardan, and Zarathushti Doozi, and Zoroastrian needlework was registered as national heritage.