Unknown of Nowruz from the words of an expert in IRIB (Islamic Republic Of Iran Broadcast)
Sepanta of Zoroaster or Anousheh?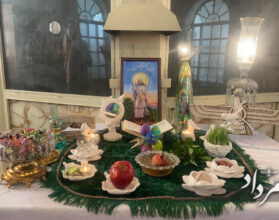 What is the "Sepanta of Zoroaster"? Why have I never heard of it? Is it the name of a book or manuscript of Zoroaster? Or a phrase used by Zoroaster? Where in his speech does Zoroaster so clearly refer to the Haft-sin that I have never seen before? Why would Zarathushtra specify Haft-sin (the Nowruz table) in Persian?
These are the questions that came to my mind after hearing the Radio and TV experts words, that made quite a noise, these days about the Haft-sin philosophy and its relation to Zoroaster. A person named "doctor" Anousheh seems to be having a doctorate in psychology and is currently performing on all sorts of radio and TV networks and also social networks.
In a program about Nowruz, on IRIB TV channel 4, he claims that "in the sepanta of Zarathushtra, in the pure and holy verses Zarathushtra recites, he refers to this Haft-sin that has unique features: it must start with the letter 's'; should be of plant origin; should be edible.  It should be a one-word name and not compound word, and it should be Persian.
Then he mentions these seven items starting with the Persian letter 's' (sin): garlic, apple, samanu, senjed, silver berry, viniger, sumac not sumaq (sumac is Arabic), etc.
I am not going to argue about what the psychology specialty has to do with mythological issues, that some were putting questions to him about this issue, or about his courage in answering these questions.  i am going to ask countless other questions that have come to my mind, and I hope to get the doctor's answers in order to gain peace of mind.
First question:  what exactly is the "Sepanta of Zoroaster"? Is it the name of a book or manuscript of Zoroaster? Or is it a phrase that Zoroaster used to define specific concepts? Where was this article published that Dr. Anousheh succeeded to read? I was not patient enough to wait for a reasonable answer from Dr. Anousheh, I searched for the phrase "sepanta of Zarathushtra" on the internet and the only article I found that had a little to do with the words of this expert was from Mr Mir Mohammad Tajozi, in the world economy website.  It has no scientific source and is taken from a book written in 1186 SH, in which it only mentions that Haft-sin was "Haft-Sepanta" at first, and because it was easier to say Haft-sin, it changed to this phrase.
Of course, a person who has a doctoral degree from a well-known university and has submitted at least two scientific articles to receive his degree is not expected to give such a deficient interpretation of a sourceless internet article to his audience. Did the doctor read the phrase "Sepanta of Zoroaster" somewhere before reciting it in this program? And is the "Zoroaster" that the doctor mentions the same Zoroaster we know?
The second question is precisely in which text, on which page, and which line of it did Zoroaster refer to the Haft-sin of Nowruz? Why have no scholars of mythology, ancient languages, and cultures, etc., ever reported such a direct reference to the Haft-sin in Zoroaster's speech, and only the sharp eyes of Dr. Anousheh hunted it?
The third and most important question is:  why did Zarathushtra determine Haft-sin as a Persian word? Did the Persian language exist in the time of Zoroaster? So why did Zarathushtra himself write his hymns in the Gathic language?? Why did the Persian language appear several millennia after Zoroaster? Do you have access to resources that nobody has had access to?
And a final question from me, as an audience: Can I be sure of the correctness of the expert's resources before hearing his opinions? After hearing the expert's words, do I seek the truth and correctness of his words, or just blindly accept it?