Ahmad Kabiri Hendi, a pioneer in archaeology, passed away
Ahmad Kabiri Hendi, a pioneer in archeiology, passed away on May 2, 2021, at the age of 76.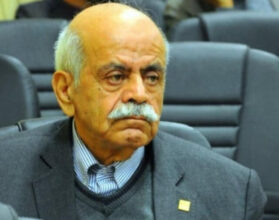 According to ISNA, on its official instagram page, the National Museum of Iran confirmed the news of the demise of the professor of protection and restoration, and wrote: "Ahmad Kabiri Hendi passed away on May 2, 2021, on Teacher's Day and and soared towards God Almighty."
This learned and cultured man was born in 1324 in Tehran and studied archeology at the University of Tehran. Kabiri was first recruited by the National Organization for the Protection of the Historical Monuments of Iran and then served in the Cultural Heritage Organization of the country in archaeological research, protection, and restoration of sites and historical monuments. He was a member of the board and chairman of the ICOMOS Iran Documents and Publications Committee.
In the record of performance of this prominent figure, there are the study, excavation, protection and restoration of the city of Harireh Kish and the temple of Anahita Kangavar, research and identification of the historical monuments of Shah Zand, research and study on the Delazian of semnan and Qasr-e Bahram Caravanserai, research on the historical Takhte Jamshid artifacts, the royal residences of Isfahan, Farahabad of Sari, etc.
In a message of condolence on the account of the demise of Ahmad Kabiri, Jebrael Nokandan, director of the National Museum of Iran, called this unfortunate event an irreversible loss to the country's cultural heritage, which has caused great grief among his colleagues and friends and added that the archeologist had a conservation-oriented approaches in his researches.  His name and his valuable works will remain the historical memory of the region.
The Cultural Heritage and Tourism Research Institute and the ICOMOS Institute of Iran sent their condolence for the death of the archaeologist and professor of preservation and restoration of historical monuments in separate messages.