Today is the blessed day of Varahram Izad; 17 Tir
The Death Anniversary of Caro Lucas Ghukasian; Father of Iran's Robotic Science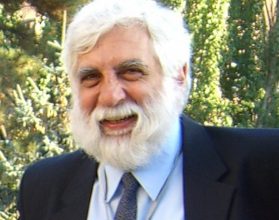 Today is the holy day of Varahram Izad, 20th Tir of the year 3759 of Zoroastrian calendar, Thursday, 17th Tir of 1400 official solar calendar, and July 8, 2021 AD.
Caro Lucas Ghukasian, " "father of Iran's robotic science", a distinguished scientist in artifical intelligence and robotic science, at Tehran University and an Iranian-Armenian inventor, passed away on July 5, 2010, in Tehran.
Caro Lucas was one of the renowned researchers of intelligent systems in Iran. His research interests included time series prediction, emotional models, and fuzzy systems. He is also a researcher in multiagent systems, swarm intelligence, data mining, business intelligence, knowledge management, and systems science. Prof. Lucas was recognized as a prominent and lasting figure in 2006. He is also known as the "Father of Iran's Robotic Science."
Caro Lucas, born in Isfahan, September 4, 1949, studied at the Koushesh-Davotian Armenian School and graduated in mathematics in 1968. In the same year, he entered the Faculty of engineering at Tehran University with honors, and gained his MS degree in electricity and control engineering, in 3 years. Then he moved to America. This outstanding scientist received his Ph.D. from the Department of Electrical Engineering and Computer Science at the University of California, Berkeley, focusing on control engineering. From 1976 to 1986, he was a professor at the Faculty of Engineering of the University of Tehran and a fellow student of the electrical department of this faculty, and he founded the "Center of Excellence for Control and Intelligent Processing (CIPCE)."
His scientific and research fields are:
Nonlinear control.
Intelligent systems.
Hardware development research project.
Neural network design research project.
Teaching electrical engineering courses in Tehran universities, U.C.L.A. California, Guidance.
Counseling.
Supervision of 15 Master's Theses.
He had innovations in designing a hybrid neural network for recognizing single Persian words. He was a full-time professor of electrical and computer engineering at the University of Tehran and, at the same time, was the director of the Intelligent Systems Research Institute. He has been a visiting professor at the Universities of Toronto (Canada), Berkeley (California), and UCLA (California, USA) due to his high academic rank.
In addition to teaching and research in Iran, he also engaged in many scientific and research activities in universities abroad. Dr. Ghokasian is the author of 60 articles in Persian and 44 papers in foreign languages.
Lucas Ghokasian died at the age of 61 and was buried in the "Borastan Monastery." He was one of the famous professors of the Faculty of Engineering of the University of Tehran. Following his death, nearly eight hundred current and former professors and students of this university paid tribute to him by publishing a statement.
Thinking about the dominance of good over evil is the phases of victory that nurtures hope, curiosity and dynamics in human beings. O Ahura Mazda, may we be among those who lead the world to prosperity and growth and the people to wealth and happiness – ahnavad – Yasna verse 30.
The twentieth day of each 30-day month is called the "Varahram" in the Mazdyasna calendar. Varahram Yasht: In praise of "verethraghna" is Izad Bahram, symbol of war, battle and victory, with an Indo-Iranian background. According to the ancient Iranian belief, reciting this prayer brings victory in deeds, and shrines called "Shah Varahram Izad" have been built in some villages and town to recite and pray Varahram Yasht in the hope of success in such a holy place. This Yasht has 22 kardeh and 64 verses in praise of Izad Bahram, the God of victory. This Yasht is one of the most beautiful Yashtas of Avesta with melodic songs. In Varahram Yasht, it is written that Varahram is created by Ahura, a powerful and benevolent and has a great power of sight. He crushes the attacks of all enemies, whether the witches, the fairies or the cruel Karpons.  He refreshes the whole world and brings peace, and fulfills wishes as well.  Varahram also strengthens fertility, gives strong arms and health and courage.
The meaning of "Verahram" is victory, and Varahram Izad is worthy of praise. In the Iranian belief, victory has always been valuable and worthy of praise. Therefore, in the Avesta, beautiful songs are sung in recognition of achievement. Before beginning any group work, the ancient Iranians gathered in a particular shrine. They sang hymns praising victory and set foot on the battlefield with a strong psyche and a strong will to succeed. These shrines became famous over time as the shrines of Vahram Izad. Now, at least once a month, on the day of Vahram, Zoroastrians gather at the Shrine of Shah Varahram Izad, pray to Ahura Mazda to grant them victory in life, as well as to all those who follow the message of Zarathustra, reviving life, striving for the prosperity of the whole world of existence and spreading the true religion to make it victorious and glorious.
To live in the shrines, Most of the Zoroastrians, when paying homage to the shrines, or fire temples, wear the sadra kusti and cover their heads with a white cap or scarf. The symbol of this day is the "lavender" flower in the Zoroastrian religion. Now that the pandemic has made it impossible to gather by the fire of Varahram, we together raise our hands and recite the Varahram Yasht for all those involved in these difficult days, wishing them good health and joy.