The representative of Yazd province will host the return round in Yeganegi sports hall
Basketball games with participation of two Zoroastrain players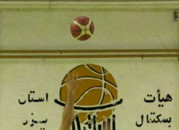 With the attendance of two Zoroastrian players, the Yazd basketball team will host the second division league of the country's clubs in the Yeganegi gym of the Zoroastrian Youth Club and Organization of Yazd.
Farzad Namiranian and Arshia atashbank, two Zoroastrian players, will play in the Yazd basketball team, in the second division league. A team of local players with an average age of 20 years and experienced technical staff and managers trying to bring a bright future for basketball in Yazd province.
Yazd Basketball House in Group "D" will host the return round of these matches in Yeganegi Sports Hall from July 29 to July 5. The representative of Yazd province will meet with the teams of Rafsanjan, Kohgiluyeh and Boyer-Ahmad basketball houses, Iranian Padma Yadak of Isfahan, Mehran from Shiraz and Foolad from Hormozgan.  These games will be played without attendance of spectators under the conditions of the coronavirus pandemic. In the first round hosted by the Isfahan Padma Yadak team, Yazd representative stood 4th in the group.