For 30 years, every day, a lady dressed from head to toe in red and sat quietly in the eastern corner of Ferdowsi square, staring at the passersby who either rushed pass by her hastily or took a halfhearted glance at her while passing by. She did not talk to anyone, and she did not want anything. She was silent and staring. Who was this woman? What was she doing there, and why was she called by some "symbol of love"?  Although many years have passed since the unexpected and sudden disappearance of this lady in read in Ferdowsi square, her memory has not left the minds and tongues of the people of Tehran, those who saw her in the fifties and early sixties, before she got lost in the dust of time!
They say her name of "Yaqut"; she was born in 1305.  She was frail and had more or less a bony face.  She had some make up but not so much to make her look odd. Her clothes were all red: her dress, her bag, her shoes, and even her watch band and socks. After the events of 1357, she also wore a red scarf on her hair. She carried a red bundle next to her and sat in a corner for hours, in taking her eyes away from the people.  She kept on waiting and her wait seemed never to end.  Sometimes, a cup of tea was placed next to her, or she was offered a small snack.
The businessmen on the square were kind to the lady in red. They knew she was a quiet person. Therefore, they did not say anything to her and left her alone in her fantasies and waiting. But not everyone was like that. Some passersby cowardly teased her and said something annoying. But the woman in red did not pay attention and did not answer. Sometimes beggars bothered her. If the harassment continues, she would get up and leave that spot and go elsewhere.
One day, Gholam-Hossein Saedi, a famous novelist, saw a lady in red who was not very happy. Saedi was a doctor. He took the lady's hand and realized that she had a fever. After persisting and putting his foot down he succeeded in taking her by taxi to a nearby clinic. He stayed there until they gave the serum to the woman in red and gave her medicine: This was not easy. The woman in red was sitting on the ground, screaming and shouting why she had been brought there. A few years later, Saedi left Iran. There he wrote a letter to a friend and asked the lady of Ferdowsi Square: "Is Yaqut still sleeping on the street?" He was worried.
The secret of the lady in red
People wondered: "what is this woman doing, and not just a year or two but for years and years"? There were many rumors about the secret of her wait. She was said to have fallen in love with a man at a young age. One day he makes an appointment with her in Ferdowsi Square. The man asks her to wear red to make it easier to find her in the crowds of the square. She did the same and went to her rendezvous. She waits for hours, but the man never comes. What happened to him? Was he unfaithful? Did he regret it? Was dead? Nobody knows. That he was killed in an accident was just a guess. From then on, she wore her red dress and went to her date and told herself "he will come", and before the sunset, she wore her red dress and went on a date and promised to herself: He will come! She waited for thirty years, and he did not come! Until one day, in the days of 1362, this waiting lady disappeared forever. No one knows what happened to her!
In 1355, one of the well-known journalists had a conversation with the lady in red, in Ferdowsi Square.  He invited her to the radio station and the interview took place there. He asked: Why do you wear the red dress always? "Better than other clothes" she said. Do you like its color more? "Yes, yes," she said. They asked why she is always in Ferdowsi Square. "Where should I go?" "All roads end in Rome!" they asked "People say you are waiting for someone".  She answered clearly:  "It's a lie; these words are a lie." Why did she not want to reveal her secret? Why didn't she talk about her lost lover? Nobody knows! Maybe she did not consider others worthy of knowing her secret, and preferred to keep her story to herself. My heart and soul are busy with you and searching for you/ so that the opponents do not know what I want is you!
Songs and a documentary about the lady in red
Years passed until Moeini Kermanshahi, a famous poet and song writer wrote a song about this red-dress lady and her lover, and one of the female singers of that time performed it:
In a city where you are not here, the street is empty
All I see has is an imaginary color
You are not here, see me wandering in the street
You are not here to see me with this broken heart
Without you, I am sad from this distance
Until you return, I will disappear and go to heaven
I do not forget that lovely look
No one agrees with me
I do not know anyone
My only companion is God
This song soon became popular, and many people whispered the song to themselves when they saw the red-dress lady of Ferdowsi Square. It was even said that Fereydoun Foroughi's song "Always Absent" is about this lady. But the piece, which is composed by Shahyar Ghanbari, has nothing to do with the lady of Ferdowsi Square and reflects the political atmosphere of the fifties: "Someone comes who I am waiting to see/ someone comes whom I am thirsty to smell…" However, the famous poet Mohammad Ali Sepanloo mentioned this lady in one of his poems: "Think of her in red / that her life was regularly spent on a date/ and her lover never came so / that she is now a tree with red leaves"!
There are short videos of the lady of Ferdowsi Square. Those scenes can be found in the documentary "Tehran Today" made by Khosrow Sinai. This Sinai's film shows Tehran of 1356. In one part of the film, a red-dress lady is seen walking lightly across Ferdowsi Street. In this part of the film, there is a voice that says: "One day she came one day and left another day.  I want to see her again but alas, this will not happen? Where did she go?"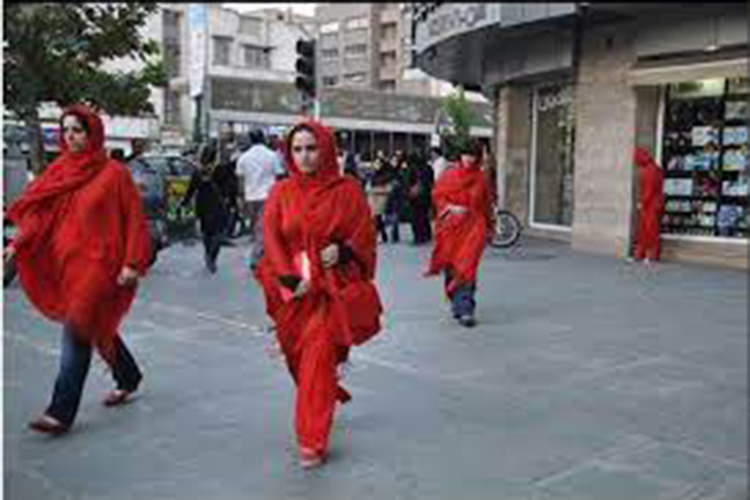 On Thursday, Mehr 21, 1390, several women in Tehran, with full red veils, remembered the woman in red in Ferdowsi Square and kept the memory of that lady alive. They stood for an hour by the square, where the lady in red was sitting, and remembering memories in their minds. This gathering was surprising and exciting for passers-by. It has been almost forty years since the lady in red in Ferdowsi Square left. What is left from her is a voice (the same radio talker) that speaks for itself briefly and clearly. Forough rightly said: "Sound is the only thing that remains"!