Published in Amordad No.441
Tirgan is a celebration for freedom, stability and ever-lasting life for Iran
One of the most fundamental Iranian philosophical thoughts is the belief in the constant battle between good and evil. Iranians have always wanted a prosperous and peaceful world, away from evil, and have pursued this desire in their customs, celebrations, legends, poetry and religious beliefs.  This is evident in the wise words: "good thoughts, words and deeds" which have risen from the heart of this culture.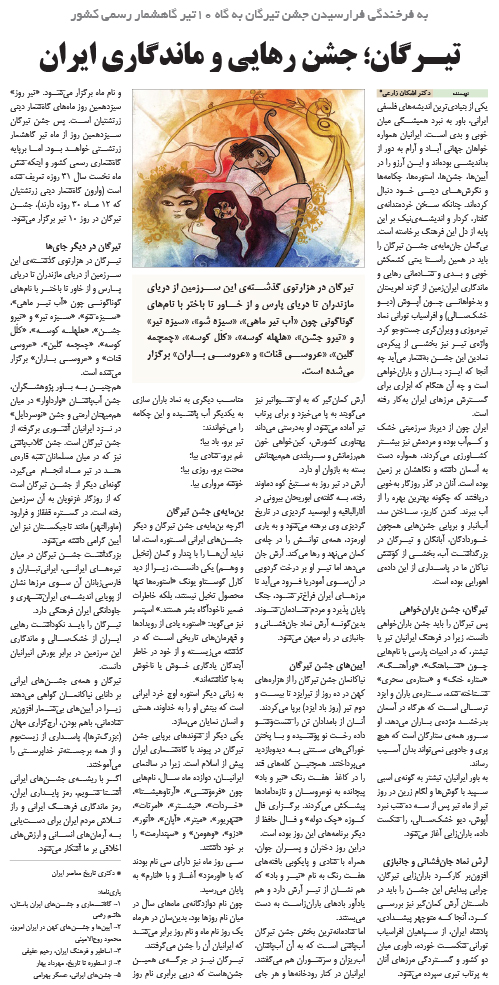 Undoubtedly, the theme of Tirgan celebration should be sought in this very concept, that is, the battle between good and evil and the joy of freedom and safeguarding of Iran from the harm of demons and ill-wishers such as Apaosha (demon of drought), and Afrasiab Turani, the symbol of darkness and destruction.
The word "Tir" is also part of the symbolic body of this celebration, both when it acts as the goddess of rain and when it is used as a tool to expand Iran's borders.
Since Iran's lands have always been dry and its people have mostly been farmers, all eyes have been towards the sky for rain. Over time they learned how to make the most of the limited amount of water. Digging a kariz, building a dam, a reservoir, and holding celebrations such as Khordadgan, Abangan, and Tirgan in honor of water have been part of our ancestors' efforts to preserve these divine creations.
Tirgan, rain-seeking celebration
Therefore, Tirgan should be considered a rain-seeking celebration because in Iranian culture, Tir or Tishtar, known in Persian literature as "Shabahang," "Varahang," "Setareh Khang," and "Morning Star," is a rain star and goddess of rain. Whenever it shines in the sky, it gives the good news of rain; she is the queen of all the stars, which no magic or evil deed can harm.
According to the Iranians, Tishtar defeated the Apaosha, the demon of drought, on the thirteenth of Tir after three or ten nights of battle in the form of a white horse with golden ears and bridles, and then rain started pouring.
In addition to the rain making quality of tirgan, the origin of this celebration should also be sought in the legend of Arash Kamangir, where Manouchehr Pishdadi, king of Iran, was defeated by Afrasiab Turani's troops, and so the peace between the two countries and the extent of their borders all depend on the arrow to be thrown Arash.
Arash Kamangir, also known as Shivatir, gets up and prepares to shoot. He knows well that the borders of his country, the feeling of vengeance of his fellow soldiers and the pride of his countrymen depend on his arms.
The above is part of an article entitled "Tirgan; celebration of freedom, stability and survival of Iran "by Dr. Ashkan Zarei, published in the latest issue of Amordad.