With approval from the Supreme Council of the Cultural Revolution
The word "zadrooz" (Persian word for birthday) has replaced the word "veladat" (Arabic word for birthday)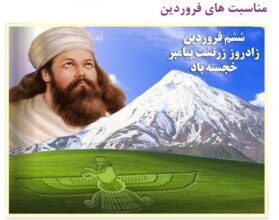 The Supreme Council of the Cultural Revolution approved the Council of Public Culture's decision to change the title of "Veladat-e Zartusht" and the naming and name 6th of Farvardin in the official calendar of the country as "Birthday of the Prophet Zoroaster."
At the 841st meeting of the Supreme Council of the Cultural Revolution, held on Tuesday, May 25, 2021, changing the Arabic version of "birthday" to the Persian version, which falls on 6th Farvardin, on the official calendar, was approved.  Therefore, from now onwards, calendar publishers should include the occasion of 6th of Farvardin, entitled "birthday of Zarathustra in the official calendar of the country.
The seven hundred and fifty-third session of the Public Culture Council of the country was held in the official auditorium of the country on February 9, 2021, with the plan of reviewing the received proposals on naming the days. One of the proposals to change the Arabic word "Veladat" to the Persian word 'zadrooz", was made by Esfandiar Ekhtiari, the representative of Zoroastrian Iranians in the parliament, and was approved by the Public Culture Council. With the final approval of this decree in the Supreme Council of the Cultural Revolution, the title "Veladat-e Zartusth" was changed to "Birthday of the Prophet Zarathustra."
Earlier, at a meeting held on Tuesday 3, 2019, the Supreme Council of the Cultural Revolution had registered the naming of the sixth of Farvardin, the prophet's birthday, as "Veladat-e Zartush" in the official hall of Iran.
Khordad Day from the month of Farvardin in the Zoroastrian calendar equals the sixth of Farvardin, the auspicious birthday of Zoroaster, and him being chosen as a divine messenger.  It was the day when Zarathushtra called upon his followers to have good thoughts and with reason, say nothing but well, and strive for good deeds.  The only messenger whose connection with Iran and Iran is inseparable.