Today is Khordad Amshaspand day, the sixth day of the Zoroastrian calendar, Amordad 2 solar
Death Anniversary of Ahmad Shamlou, Pioneer of White Persian Poetry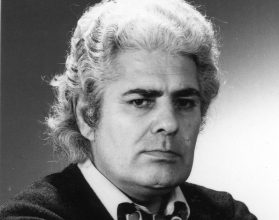 Today is the blessed day of Khordad Amshaspand, the sixth of Amordad in the year 3759 Zoroastrian calendar, Sunday, Amordad 2, 1400, July 24, 2021 AD.
2nd Amordad, death anniversary of Ahmad Shamlou, by the pen name "A Bamdad". He is a poet, writer, journalist, researcher, translator, and lexicographer. White poetry was an achievement of Shamlou.
Although he opened a new path in poetry, he never forgot that Nima was the pioneer. He was secretary of the secretaries of the Writers' Association of Iran before and after the revolution. Shamloo, born on December 12, 1925, in Tehran, had some disconnected education; because his father was an army officer and he was constantly moving from city to city; so his family could never stay there for long. His imprisonment in 1943 due to his political activities marked the end of his irregular education. Most of his fame is due to his innovation in contemporary Persian poetry and composing a type of poetry known as white poetry or inclusive poetry, and is currently considered one of the most important forms of poetry used in Iran and is an imitation of French white poetry or prose poetry.
He met Nima Youshij in 1946, and under his influence, he turned towards Nima's style of poetry. Shamloo published his first book of poetry, "Forgotten Songsbut later, when he lost interest in such poems, he collected all the copies from here and there, and destroyed them all. The "Forgotten Songs" were a collection of poems of his young age, and some some bitter love poems.
6 years later, Shamlou published his collection named "Iron and Emotions". The military governor archived his book in a printing press and then burned it. The publication of "Fresh Air" made Shamlou famous again. But for the first time in his poem "The Red Blossom of a Dress", which was published in 1950 under the title "white poetry of forgiveness", he dropped rhythm in poetry and started forming a new style in contemporary Persian poetry.  In addition to poetry, he was well known for his activities in journalism, research and translation. His collection named "The Book of the Street" is his largest research work done on the folkloric culture of the people of Iran. He met Ayda in 1992, and two years later, the relationship led to marriage. Then, Shamlou published the book "Ayda in the Mirror" (1964) and "Ayda: Tree, Dagger, Remembrance" (1967). He started his research and collection of "The book of the street" in 1964.  So far six volumes of this collection (which continued until the last days of his life) have been published.
His works have been translated into Swedish, English, Japanese, French, Spanish, German, Russian, Armenian, Dutch, Romanian, Finnish, Kurdish, and Turkish. He was the cultural adviser to the Hungarian Embassy from 1952, for two years.  "The first night of greet Iran poems" was held in 1968 by the cultural attache of the German embassy in Tehran.  After years of illness Ahmad Shamlu passed away on July 23, 2000, at the age of 75, and was buried in Imamzadeh Taher, Karaj. Love, freedom, and humanism are the prominent features of Shamlou's poems.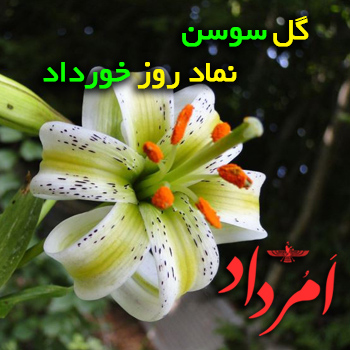 Khordad is the name of the sixth day of each month in the Zoroastrian calendar. It is the fifth Amshaspand and the guardian of water and greenery. Khordad in Avesta is pronounced "Heurvatat", and in Pahlavi is "Khordat" or "Hordat" meaning ordinance and perfection, which in the Gathas is one of the characters of Ahura Mazda and in the New Avesta it is the name of one of the seven Amshaspands and the symbol of Ahura Mazda. The first part of the word "heurva" is an adjective meaning ordinant, full, right and complete. The second part "tat" is a suffix for noun. "Heurvatat" represents ordinance and perfection of Ahura Mazda.
Khordad Amshaspand is a lady who is responsible for protecting all waters on earth and she helps the thirsty to overcome their thirst.  Therefore, as a custom, she is remembered in goodness when drinking water. On this earth she is a guardian of waters.  Baad Izad, Tir Izad and Farvardin Izad are Khordad's associates.
In the Gathas, Khordad and Amordad are constantly mentioned together. In the New Avesta, these two Amshaspands are the guardians of the waters and plants that come to the aid of the people to defeat their thirst and hunger.
In Yasna, verse 47, it is stated that Ahura Mazda will reach out and give immortality of Amordad to the one whose thoughts, words and deeds are in accordance with the religion of truth and honesty.
In the ancient texts of Amshaspand Khordad: The fourth Yasht of the twenty-one yasht of Avesta is dedicated to the praise and worship of Amshaspand Lady Khordad, in which Yasht Ahura Mazda speaks about creating Khordad to help the pure people achieve salvation, peace and prosperity". And then, it is emphasized that whoever praises Khordad is like one who has honored all Amshaspandans. In Bundahishn it is also mentioned about Khordad: "From all the creations in the universe she accepted the responsibility of the waters and says that life, birth and the growth of all living being on earth is from water, and therefore the earth's prosperity is because of her."