Menace of Afghan cultural heritage staff by the Taliban
What will the Taliban do with Afghanistan's cultural heritage?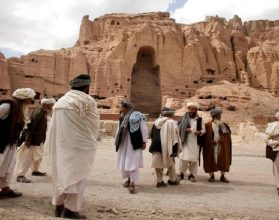 The news about the destruction of Budha of Bamyan, considered a world heritage of eastern civilization, by Taliban in 2001, has yet not been forgotten. And now, with taliban putting their grip over Afghanistan, it is feared that a more catastrophic tragedy will befall the country's cultural heritage this time.
According to ISNA, with the rise of the Taliban in Afghanistan, tens of thousands of monuments and historical sites are now under the control of this group, which does not have a good in this regard.
In this report cited by National Geography it states: "Taliban has taken power in Afghanistan and is now owner of the historical treasures of this country, which has already been destroyed by them in the past."
Noor Agha Nouri, director of the Afghanistan Archaeological Institute in Kabul, said: "We did not expect this to happen so fast. Authorities wanted to move the artifacts from cities such as Herat and Kandhar to a safe place, but the sudden fall of the Afghan government prevented them."
Mohammad Fahim Rahimi, director of the National Museum of Afghanistan, spoke about this situation: "With the Taliban taking control of Kabul, 80,000 monuments in the National Museum of Afghanistan are now in danger, and we are very concerned about the safety of staff and artifacts."
Taliban, who has no good record in respecting cultural and historical heritage, attacked the National Museum of Afghanistan in 2001, destroyed several artifacts.
Afghanistan is known as one of the most important cultural routes for thousands of years, has a rich heritage and has hosted various religions and civilizations from Buddhism, Zoroastrianism, Christianity and Judaism and Hindus, from pre-Islamic to post-Islamic times.
Also a major artery on the Silk Road connecting India to Iran and China, it houses the remains of ancient cities, monasteries, and caravansaries that hosted travelers, including Marco Polo, on their way to the dazzling court of Kublai Khan, a descendant of Genghis Khan.
The Taliban follow an extreme mindset that rejects all images of humans and animals. Cultural heritage officials are worried that they will retake action, as they did in 2001 when the Taliban destroyed a famous Buddha of Bamyan and several objects and statues in the Kabul Museum.
In a statement issued earlier in February, Taliban leaders instructed their followers to protect and preserve monuments quickly, stop illegal excavations, and safeguard all historical sites. They even claimed that they would ban the sale of historical artifacts in the art market.
But many Afghan cultural heritage experts are skeptical of these claims. "They are still a very ideological and radical group," said Omar Sharifi, a professor of social sciences at the American University of Afghanistan. He fled to Delhi from Kabul a few days ago and said Taliban members had directly threatened him. Other Afghan sources say cultural heritage workers across the country have received text messages and phone calls from Taliban officials accusing them of collaborating with international organizations.
Bamyan is a historic city in Afghanistan and the capital of Bamyan province and Bamyan district. The town measures 35 sqkm, and 240 km west of Kabul, the capital of Afghanistan. Bamyan is one of the world's civilizational heritage and has historically been considered one of the most important sites in Central Asia. Bamyan was considered one of the most important parts of Parpamizad province during the Achaemenid period. During the reign of the Kushans, it was regarded as one of the most fundamental tourist and religious centers of Buddhism and its location on the Silk Road.
In 2015, this city was selected as the cultural capital of SAARC member countries. The idols of Bamyan and its grounds became a UNESCO heritage site in 2003.
Bamyan has a rich history and many ancient relics and sites. Zahak city, Azhdar valley, Gholgholeh city, Fooladi valley, Chehel Dokhtar, ice cave, large Buddha idols, caves, Baba Mountain, Royal city, Bala Hesar, and Chehel borj are among the most import ones.
Moghadasi says about Bamyan:  "It is one of the ports of Khorasan and pool of treasures of Sindh River.  It has a severely cold and snowy climate, and one of its advantages is that there are no fleas and scorpions there."
At the beginning of the 7th century, Yaqut gave a detailed report of Bamyan and its great idols, stating: "There is a very tall idol temple standing on pillars and there are carvings of all types of birds that God has created.  On the face of the mountain two huge idols have been carved from the bottom to the top of the mountain, one of which is Sorkhbod and the other is Khonokbod (red Buddha and grey Buddha). And they say these statues are unique in the whole world."
Qazvini has also written about the gold house of Bamyan and two giant statues of Budha. The destruction of Bamyan and its provinces was the result of the wrath of Gemgjos Khan, whose nephew Motokan, son of Jaghtai, was killed in the siege of Bamyan. The Mongol armies were ordered to level the city's fortifications and buildings and not allow anyone to live there or build a house there. From then on, the name Bamyan became "Moblaq", which means "cursed city" in Mongolian, and since then, Bamyan has become a dry and empty desert. (Historical Geography of the Eastern Caliphate. Tehran: Scientific and Cultural, 2014)