During the recent excavations in Liar-Sang-Bon of Amlash
19 Parthian graves were found in the among the ancient treasures of Gilan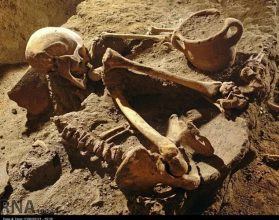 Following archaeological excavations in the ancient complex of Liar-Sang-Bon of Amlash in Gilan, 19 historical graves were excavated.
After 6 phases of excavation carried out by 4 exploration workshops, 19 historical graves were unearthed in the ancient complex of Liar-Sang-Bon of Amlash, considered to be ancient treasures from the Parthian period in Gilan province.
According to IRNA, Vali Jahani, deputy for Cultural Heritage of the Cultural Heritage, Tourism and Handicrafts, stated that Liar-Sang-Bon of amlash was identified in 1391, and 6 phases of excavation have been completed. He said that after renewal of the license by the Ministry of Cultural Heritage, the seventh round of excavations in this area will also start.
Jahani stated: "In this area, 19 graves of both tomb and casket types were identified and some valuable artifacts, like pottery, personal items, weapons made of iron, all from the Parthian period, have been collected."
He said: "This ancient complex is thought to belong to the historical period of the Parthian dynasty, and with an area covering about 27 hectares, it has a burial section and scattered evidence of historical effects going back to the mid Islam period." The Deputy Minister of Cultural Heritage continued: "Four workshops in the cemetery section of this complex with an area of about 2 hectares are exploring one of the greatest historical treasures of ancient Gilan."
Jahani added: "The pits in this area are mostly oval shaped, tombs whose like have not been found in Iran upto this date."
He said: "After the excavations and historical artifacts obtained in this historical site related to the Parthian period and the early Islamic period, its relationship with the residents of Turkmenistan and Azerbaijan has also been determined."
Jahani stated that the Liar-Sang-Bon of amlash historical site has been registered in the list of national heritage of Iran, and any illegal excavations in it will be prosecuted, and added:  "The archeological excavations done in the historic area and the amount of iron tools and weapons found, indicates that its people were both warriors and herdsmen.  Excavations of the 5th phase show that the people of this region kept to their traditions and this observance of traditions continued from the end of the Sassanid period to the second and third centuries AH."
The Liar-San-Don archeological complex is part of Saman Village, Rankouh sector of Amlash district.  It occupies a vast area of about 27 hectares, including an ancient burial ground, a settlement area, a rock shelter and some very old trees.
Liar-Sang-Bon was identified in 1391 solar; due to the necessity of having research done in this area, and after a relatively long break to obtain the required license, in summer of 1393 a committee was formed under the supervision of Vali Jahani and excavations started.  These excavations led to the discovery of a huge area and the work continued between 1395 and 1397.  Results of the research, 15 workshops and about 3 experimental diggings, resulted in the discovery of very important relics from the Parthian and sassanian periods.
In the excavations, three tomb samples were found: jar burials, catacomb burials, holes burials and, precious objects such as pottery, bronze, etc; all these works show the importance of this ancient collection in historical periods.
Amlash city is one of the mountainous areas of Gilan province, located 70 km east of Rasht.