"Handmade the carpet is the most lasting work of art. In the past, if a design was intended to becoming everlasting it would be woven into a carpet. Until 1950, there was an Iranian carpet in all Hollywood movies."
These are the words of an Iranian carpet expert who spoke about the global status of this art and its current situation. According to Ali Al-e-Ahmad, the global value of the carpet market has decreased, from $ 1.7 billion in 1973 to $ 70 million in handmade carpets. But now, this figure has come down to $70 million, which is not a good sign at all.
As reported by ISNA, Al-e-Ahmad explained about the different types of Iranian carpets: "Among Iranian carpets, we have nomadic, rustic and urban carpets; Nomadic rugs were woven based on concepts formed over thousands of years in each area. Village carpets are woven in a certain number of designs that have become standard designs of the village and generation after generation have woven their carpets using the same designs.  In urban carpets, the art of painting and aesthetics of each region have been blended into carpet weaving, and in each city a special style of fine weaving has been introduced.  For example, in the Isfahan pattern, the art of tiling has also been used in carpet weaving and thus the art gains more value."
He added: "I have an engineering degree, but I always used to go to a carpet weaving workshop in the summers, and the carpet weaving stories have been very interesting for me. The first time in a class, the teacher explained the story of carpets to me; after that, whenever I looked at a carpet, the design started to move like animation, because I knew the story of the carpet.  When you know the story of a carpet, this work of art gives meaning to you.
The Iranian carpet expert stated: "Handmade carpet is the second cultural flag of Iran. The carpet is the most lasting work of art. In the old days, whenever a design was intended to become everlasting and permanent, it was woven into a carpet. Other works of are, like painting would vanish one day but a carpet would not and would last for always. Plant based colors, which make the Iranian handwoven carpets original and authentic, will satisfy one's aesthetic sense."
In continuation, Al-e-Ahmad spoke about the trade history of the Iranian carpet: Our global hand-woven carpet trade started 200 years ago. A large part of it was because foreigners bought carpets in Iran and took out with them. Thus, gradually, a new business started in this field. At some period of time the global carpet distribution network decided not to cooperate with Iran; since the world's demand for Iranian carpets had increased Iranian designed were given to competing carpet weavers to meet the market's demand. Gradually, with the change in policy of the media towards Iranian carpets, the people's taste for carpets shifted towards modern type carpets."
He added: "Some countries are still copying from the Iranian designs because of their fans all over the world. India, Afghanistan, Pakistan and China still copy Iranian carpets."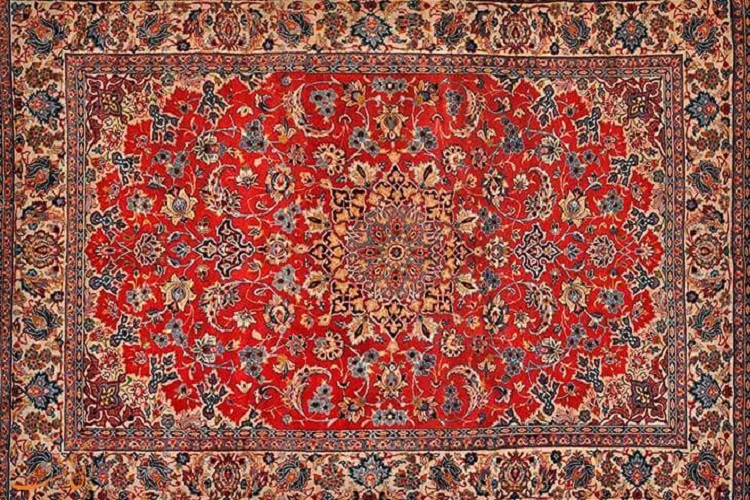 The Iranian carpet experts, who was a guest on the "Evening Show" program, continued: "Foreigners and Iranians living abroad have understood the cultural value of Iranian handmade carpets, and that is why they are very fond of it. The carpet that is sent abroad should be a carpet that you like it yourself and are able to sell it."
Referring to the role of the media in welcoming handmade carpets, Al-Ahmad said: "Until 1950, Iranian carpets were present in all Hollywood films, but since then they have become less and less." Now-a-days, social networks are a good place to put high quality photos of Iranian carpets and also produce a good content for Iranian art, for promoting it among audiences around the world.
"The global value of the carpet market has come down," he said. "In 1973 the export of handmade carpets was worth $1.7 billion. The world market was thirsty for Iranian hand-woven carpets, but as the promotion of this culture in the media slowly diminished, plus other reasons like the international and national sanctions and also the pressure put on this field of business, the revenue has reached $70 million, which is not a good sign at all."
The Iranian carpet expert added: Iranian handicrafts, carpets and tourism should be promoted by Iranians living abroad. We should make best use of the desire of the Iranians living abroad to help their country, in order to introduce our rich culture to the world.