Interview with Amir Minabian, A photographer from Hormozgan
Iran from the eyes of a man whose dream is to live in beauty
I am glad to have the honor of interviewing another of the glories of Hormozgan's culture and art, someone whose love is photography. He has a long history of friendship with his camera. He has hands that smell kindness and compassion, and is tall like a palm.  Studying, thinking, traveling and hard work brought him brightness in life. Born in autumn, his life is full of beautiful adventures, full of sparrows and nature's music. On this occasion, remembering his honors, we also eagerly watch the artistic sequences of his life.
A golden part of his life:
Designer, photographer and filmmaker
Member of the International Federation of Photographic Arts of France – since 2010
The primary member of the Iranian Photographers Association since 2008
Main member of the Iranian Youth Cinema Association since 2003
Member of the Iranian Association of Cultural Heritage
Honors in photography:
First place in the nature and sea section in the third national festival of marine photography in Iran – Tehran
Winning the top title of the sixth, seventh, eighth and ninth illustrated festival – House of Iranian Artists – Tehran
Participation in the Mattigan group exhibition in Germany
Participation in the Mattigan group exhibition in Wales, 2019
Won the best photo of the year of Iran camera, net website – Shrimp fishing in the Persian Gulf – Tehran
Participation in the group exhibition of "10 days with photography", National Association of Iranian photography
Winner of the 12th photography exhibition of Van Net Camera of Iran, Tehran
Won first place in the 18th exhibition of Iran image of the year, Tehran, House of Iranian artists
First place in the national festival of the Persian gulf plants and animals (Iranology foundation), Tehran
Group exhibition:  Participation in the opening ceremony of the private gallery of Hedieh Tehrani, Tehran
Printing photos in the specialized magazine of digital photography of England, London 2009, UK
Cooperation with Iranology foundation in 3 series of the specialized periodicals on research in the Persian Gulf, bilingual, and covering photo
Instructor at Hormozgan University, Instructor of culture and art of the Persian Gulf and Bandar Abbass University of Applied sciences
Founder, instructor and director of the Bandar Abbass Creative photography school, the first technical school in Hormozgan province
Printing of his photography by the world's most technical photo magazine in England, and an introduction to his works
Photography of the best historical serial in the National Iranian TV to date: Dai Jan Napoleon (directed by Naser Taghvaie), bandar Abbas, Nowruz 1388
Photographer of the play "Persian Gulf dream" (written and directed by sirous Kahourinejad Bandari) 1389
Publications:
A book of photos and poems – Nothing is like a new death, in collaboration with 46 contemporary Iranian photographers (Abbas Kiarostami, Bahman Jalali, and Amir Minabian and… Tehran Zavosh Publishing – 2013 Photographer of Hormozgan Women's Clothing Book – Roshangaran Publications and Women's Studies – Tehran
Book on visual arts by Iranian artists – Yasavoli (Photography and Graphics)
History of photos in Hormozgan (presently under research)
Group exhibition:
Participated in 58 documentary and foreign photography exhibitions and festivals in Germany, Brazil, Argentina, Thailand and Sweden.
Group exhibition named "Photographic concerns", Tehran University of Art
Group exhibition on free adapted photos, Azad Gallery, Tehran
The second group exhibition of Mah Art GalleryTehran
Solo exhibitions:
The first solo photo exhibition – Stockholm, Sweden, about the introduction of Hormozgan women's clothes, which has been published for three years for "Hormozgan Women's clothes Book" by Shaya Safa Isini – resident of Vienna
Second solo photo exhibition was for the benefit of the victims of the Kermanshah earthquake in a public place called "Panho" fruit juice and ice cream shop. [2018] All the photos, which happened to be from nature, the Persian Gulf and Hormozgan were sold out.  Mehdi Nahang, the complex manager and Anoushirvan Mollaipur gave remarkable support to this event, for which I am incredibly grateful! I hope that other individuals, private and economic enterprises, companies and departments and organizations will also support the province's artists in all fields that introduce the province's culture, geography, and history! Hormozgan is indeed a commercial province, but its rich culture should not be ignored in the midst of the glamor and trade. Instead, this economy must be supported by culture and art. Because focusing on this sector is the best investment.
Other honors:
Director of Photography of 9 documentaries directed by Mansour Ghaemi, with documentary titles "Summer in Minab", "Hanir" in Chahestan; "Halim" in Chahestan; "Sund", "Palm", "Animal Market Thursday"; In Minab; "Zar"; Mama Safia in Khajeh Atta and "Lenj Sazi" in Bandar Kang.
Photographer of the Persian Gulf branch of National TV, from 1383 to 1386
Collaboration in Hormozgan with Iranian/Canadian research and filmmaker for a Canadian university in Hormozgan
Photographer of a documentary on the life and works of Nasser Taghvaei in the South – directed by Marzieh Vafamehr
Photography instructor in the field of photography, edition of documents and future films, photography, lighting and film sound, high level expert of the Ministry of Power, in the section for producing photos and films
Top expert of the Ministry of Energy in the field of photo and video production
Won first place in the screenplay (I have come) of a fiction movie, in the 3rd festival for film and photos, May2008
Late at night, summer 2008, Bandar Abbass
The last bullet, spring 2012, Bandar Abbas
(Filmmaking) What will happen tomorrow (writer, editor, voice actor, producer and director)
Documentary 2004 Parkoohak (cameraman, editor and sound engineer) documentary 2006 Marzizadeh
Mama Zar – Half-finished 2006 Image and editing and directed by Amir Minabian
Color graphs – unfinished – Half full of 2007 about the life of Hormozgani artist – Massoud Dargahi
From Italy to Bandar Abbas – Documentary 2014 about the life of Italian engineers with their families Italco
Portrait of Razif men – 2014
1st sequence:
I have been watching movies since I was three years old. My uncle, who now works in a pharmacy, was a pioneer in this field. As I got older, I became more interested in art and cinema. From 2000, I became interested in cinema and acting by reading various screenplays and the book "Principles of acting" by Konstantin Stanislavski". As though I found what was missing in me.  I went in search of this missing thing.  In the summer of that year, seeing a notice about the Hormozgan Art Center came as a gift.  I immediately enrolled for acting classes and got training in expression and body movement by Ibrahim Poshtkuhi.  After about 3 months of being in the T-Took group, October arrived and the smell of school on one side and the song from T-Took group on the other side was drawing me.
It was some wonderful years of high school.  Passion for art did not leave me; I again enrolled in acting classes. My first role was in the "Street Taziyeh in Muharram". The interest shown by people in this work drew us towards more street performances. My work expanded with writing, decor and costume design, and stage design, along with Marzizadeh and Bloordi. Their confidence in my work increased, and I was entrusted with the costume and stage designing for the play "A night in hell", directed by Davood Marzizadeh. We performed for two weeks in the library hall of Seyyed Mostafa Khomeini, which was well received by the public. Film screening and review sessions, directed by the late Kourosh Garmsari helped me join the Avini Culture center.
2nd Sequence:
Another notice by the Bandar Abbass Youth Cinema Association attracted my interest. The responsiveness of a respectable lady, Forouzan Kahourinejad Bandari, who is now the president of the Young Cinema Association, drew me even more towards cinema. I asked her about membership conditions and she replied that I had to attend classes of the Association, such as photography, filmmaking, filming, and so on. A national exam was held in December, and out of 70 applicants, I was one of the 50% accepted.  After my interview with Kourosh Garmasari, I was accepted for the course. The students were falling out like autumn leaves, and the number was decreasing every day.  They did not have enough perseverance, interest and energy to take on the art of cinema. In 2002, Nasser Taghvaei's film "Lineless Paper" was screened in Shahrzad Cinema in Bandar Abbas. Maybe I have seen it 100 times. The challenge of lighting matches with one hand became famous in society after watching the same film.
I was watching more movies in those days and getting to know the hidden angles of filmmaking. That's why, three months after my one-year filmmaking career, I made a short documentary on social problems called addiction. I went through hardships, and emptied the savings account my family had put aside for me; and thus I became my own producer.  I was coping with the costs of raw material, car rental, agents' fees and other factors, without having a cell phone.  On the other hand, I faced breach of promises and irresponsibility.  But somehow my filmmaking was completed.  And, from this experience, I learned that filmmaking in Hormozgan had a long and challenging way to pave.
3rd sequence:
In addition to filming, I also did editing; later, I found out that the director had put someone else's name as editor. I became disillusioned with group work. I worked on several solo projects. I learned voice acting and sound recording, but I came to the conclusion that filmmaking requires teamwork, consensus, and material and spiritual support. On the other hand, partnership was not possible due to intellectual differences between the existing artists' strata of the time. Filmmaking course was over, and we were just 9 of us left at the end of the course. I started to think about photography as a solo art and wanted to distance myself from teamwork. At that time, the late Mansour Naimi was one of the brilliant artistic figures of Hormozgan and the niece and assistant of Nasser Taghvaei, a famous and successful filmmaker. Everyone was eager to work with Naimi. I was one of those young people who had the passion of performing with him. So I seriously watched movies, studied, learned all the filmmaking techniques, and experimented in order to gain more success.
When I started my second film, the same story of unkindnesses began.  I got tired of filmmaking because of the atmosphere of those days, though those challenges made me mature.
4th sequence:
On an unforgettable Thursday morning I went to the Javan Cinema Center.  Khoobyar Salari was the director. They had a camera there, which I borrowed from him and promised to return it on Saturday.  This was a pleasant encounter for me; I went to Sasan Lab without wasting time. Behind the windows, among Konica, Kodak and Fujifilm, I chose a 24-colour Fuji. I spent the night thinking about photography, reviewing tomorrow's locations in my mind, and before sunrise, I walked from our house in Damahi to the end of the main street, taking a taxi to the city center. My first location was Shahsini, my hometown. I photographed the old windmill and then went to the memorial and the neighborhood behind the city. I took about 17 frames, did not find another specific subject, walked again to the main street, and returned home. I wished I could keep the camera for another day, but it was not possible.  I rolled up the film without finishing the role, handed over the camera on time, and then proceeded to develop and print it, some of which turned out to be very good.
At that time prof. Naimi was holding photography class. My request to attend the course was welcomed by the instructor, and this made me so happy. I handed over the photos to the teacher. He praised me a lot, taught me the technical points in terms of shadows, horizon line and metering, and also showed my work to the students. His encouragement motivated me to stay in this field.  My coming and going to the Javan Cinema Center caused a friendship to start between me and Musa Kamali in 2004. This was also initiated by Naimi.
5th sequence:
Being present in movie projects, I got to meet my cameraman friend, Tooraj Ghaderi.  He started to trust me and let me do photography with pro jib (hand crane). This led me to Mr Naimi who proposed to take on photography of the lengthy documentary: Summer in Minab". I took it as an honor to be his cameraman.  I worked with the experienced and popular Naimi on 9 very interesting documentaries, in two decades. After that, another event helped me a lot in gaining some more valuable experience. Tooraj Ghaderi called me at my house once in the morning, and not finding me, called again in the afternoon, to inform me that the TV Organization was interested in recruiting me.  I gladly accepted this offer and worked there from 2004 to 2007.  Through working with Mohammad Noor Khorrami in the art and illustration section, with Masoud Mirzaie as director, with Farshid Iranparast, Mehdi mohammadi, Saeed Mandegari and Ahmad Khodabakhsh, I took my experience to the next level.  If it weren't for their help and kindnesses I might have become discouraged soon.  I started my work as an assistant and was given the camera in the poster of routine programs. In the village of Qalat Zir, I did a creative lighting show for Ms Saheli Zadegan for the program "Bandar Show", which was well received by the director.
6th sequence:
Naimi, my guru, gave the beautiful pictures I had taken from Minab, to the popular TV show, "Bandar Show", which was well received when broadcasted. After that, I participated in various festivals and won many photography titles. Decoration with Mehrang and Pish Khorma was another project with Naimi for a program in Tehran. In 2009, I met Taqvaie, Mansour Naimi's uncle – at his photo exhibition in Bandar Abbas, and I was with him. He saw my photos and praised them very much, and he was so happy that he said: "Your photos are better than mine."
7th sequence:
Trips:  I have travelled to many different place fin my beautiful land of Iran, from the Caspian coast right upto Persian Gulf.  In most of my photographic trips, I am after capturing Iran's nature, beauties and culture from my personal point of view, and not what is obvious and people can see.  I find the most peace and joy when I am traveling with my friend and master, Ali Mirzaie, who is one of the photographers of our country and also the Cultural Heritage organization. I remember that I started photography after filmmaking. I chose photography as a profession 20 years ago. Most of the photos in my collection are from trips that I took to search and record the beauties of Iran. Many of my photographs from different parts of Iran contain images of nature, architecture, faces and creativity. My mind has always been occupied with thoughts of recording the beauties of Iran.  I believe that the realities of anything will have strange effects on us and photography faces this reality better than any other art.  For this reason, photography is the closest art to reality.
Teachers:
The late Mansour Naimi, Nasser Taghvaei, Nasrollah Kasraeian, Asad Naqshbandi, Saifullah Samadian, Mohammad Ebrahim Safi Photographer was living in the United States, Nader Daei-American photographer; Imamdadi Leader, Anoushiravan Mollaipour [Photography]; Morteza Pour Samadi, Farhad Varahram, Austrian filmmaker [filmmaker]; Parviz Parastooyi – Actor; Mohammad Reza Delpak – voice actor of the movie; Saed Nikzat – Cinematographer and Cinematographer; Live memory of Massoud Dargahi, Abdullah Khoda Karimi, Mehran Mohajer, Laleh Falahati, Kiarang Alaei and…
Belief:  In the course of my life and art, I have met ignorant as well as wise people, and fortunately the wise ones have been more, and it has been a privilege and a trump card for me to be right in the middle of this contrast, to continue with my work and allow these conflicts to build my personality. There must always be good and evil, beautiful and ugly, black and white, night and day, death and birth, and water and fire to understand the difference between the two. Sometimes, I come across people in life who do not think that one day their lives are going to end, and this is very painful.
Prospect:  Discovering the beauties of nature builds our visual taste. A good photographer sees everything well, which is why photography enhances our vision of the beauties and distortions around us.
Amir's dream: Publishing a multi-volume album has been one of my dreams I am preparing and completing a collection that depicts the nature around Bandar Abbas, a dream space for athletes and tourists. While today this nature is being destroyed, and the authorities do not pay any attention to it.
Golden suggestion: Bandar Abbas needs the best place for the house artists. Artists should be able to present their work in a particular place called the Artists' House which can be converted into a house for artists.  It has many rooms which can be turned into gallery, office, education and cultural space. We do not have a standard gallery yet. Of course, for such collections, an experienced artistic director is recommended.
Also, the best place for the house of artists of Hormozgan province is the old governorate building in Bandar Abbas, which becomes a house for artists of Hormozgan province with suitable space. It has a whole room, which can become a gallery, office and cultural, educational place. It has a meeting room in the heart of it. The location of the old governorate is very convenient for people to visit and access this place. Why shouldn't Hormozgan have a house for artists, considering its income and population?
Concern: The Persian Gulf is always Persian Gulf.  We are always waiting to receiving false claims from the Arab countries and then do take some action and do some cultural work. But we have forgotten that we are letting the sewage run for 24 hours through the heart of it, and this is most damaging to nature. I have been working in environmental photography in the Persian Gulf for several years, recording many bittersweet images.
Identity card of Amir: Amir Minabian was born on November 20, 1984, in Shah Hosseini neighborhood of Bandar Abbas, in an artist family. He is a graduate of graphic arts. Since 1393, due to 20 years of photography and filmmaking and art activity, he has been teaching as an expert instructor at university level, to undergraduate and graduate students. He is also an employee of the Ministry of Energy.
He is the first child of the family.  His brother is an electronics engineer and performs art and cultural activities. He also plays Flamingo guitar. His sister is the last child in the family. The latter has a bachelor's degree in carpet design and is engaged in graphics, photography, and short film editing and teaching painting to children.  His wife is also a photographer and a main member of the photography association. Amir's main motivation in his successes and cultural and artistic activities have been his family and the late Mansour Naimi.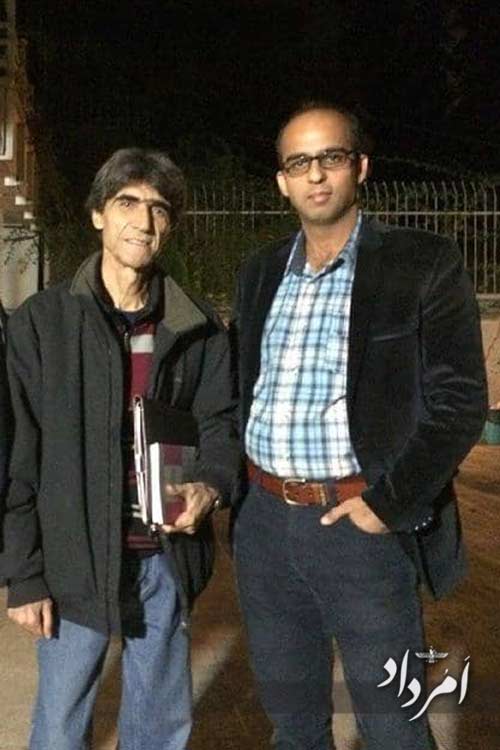 Amir with Naser Taqvai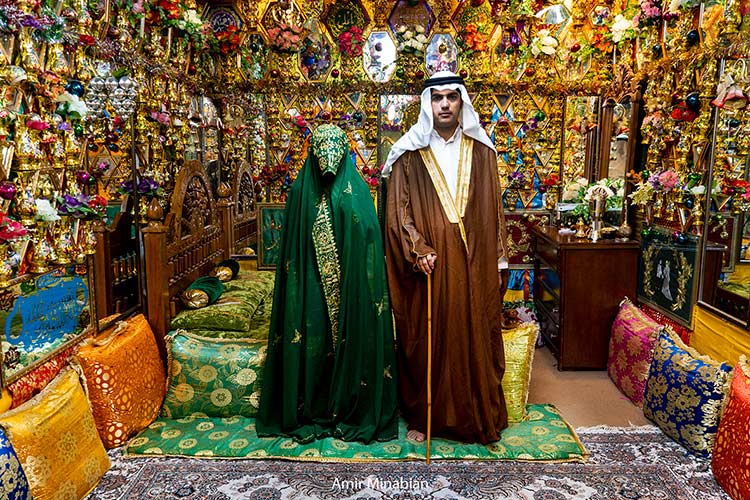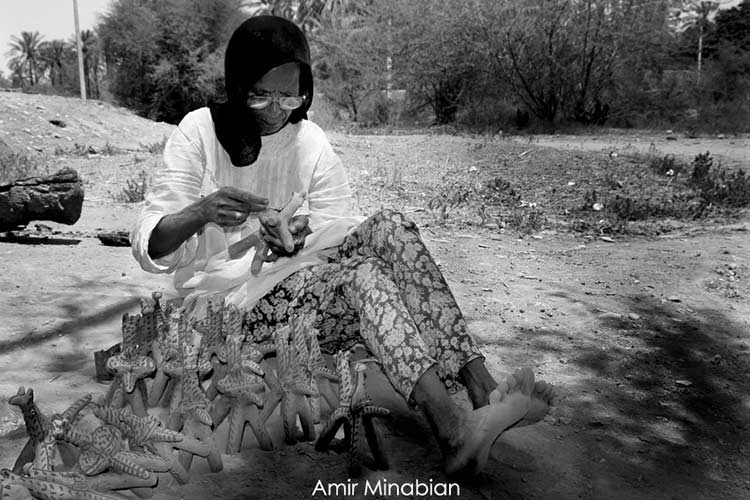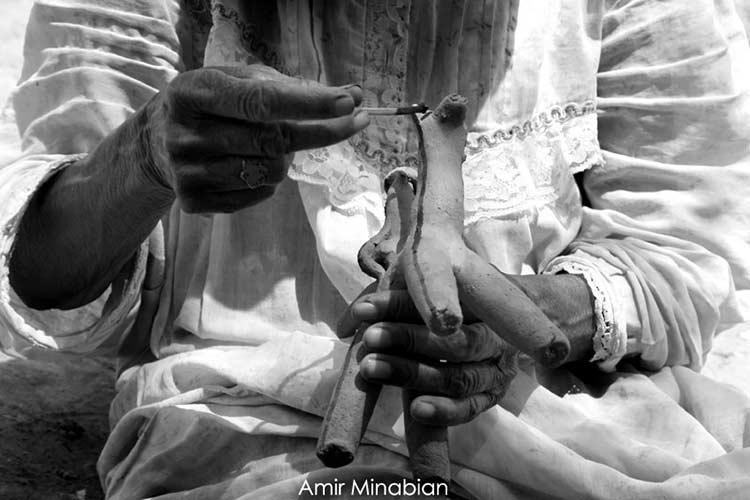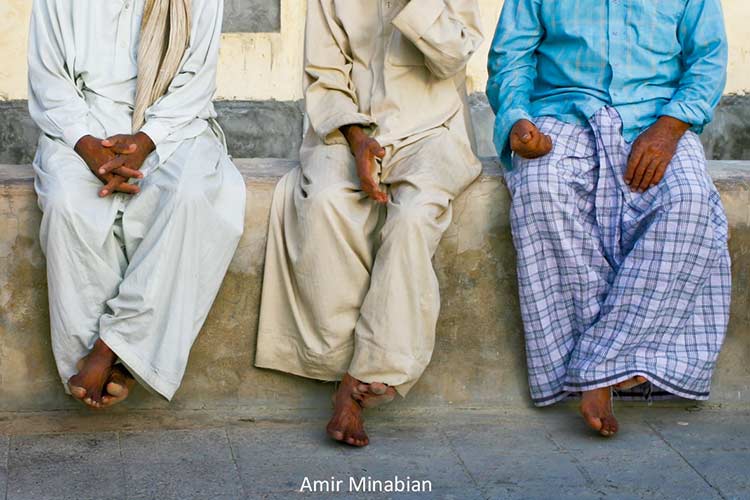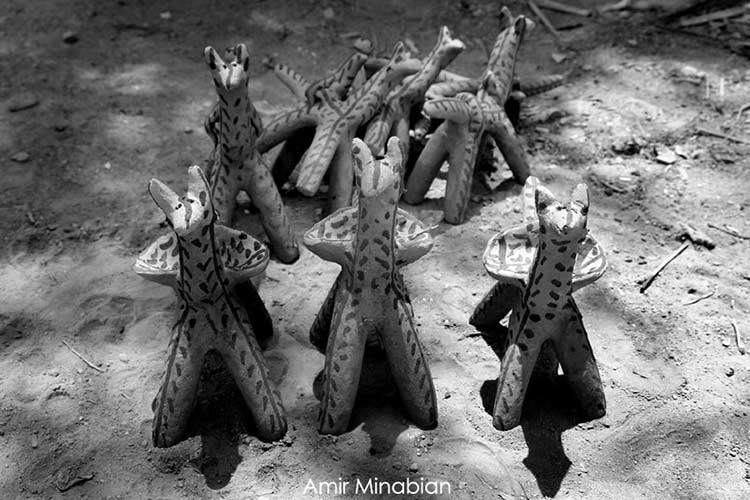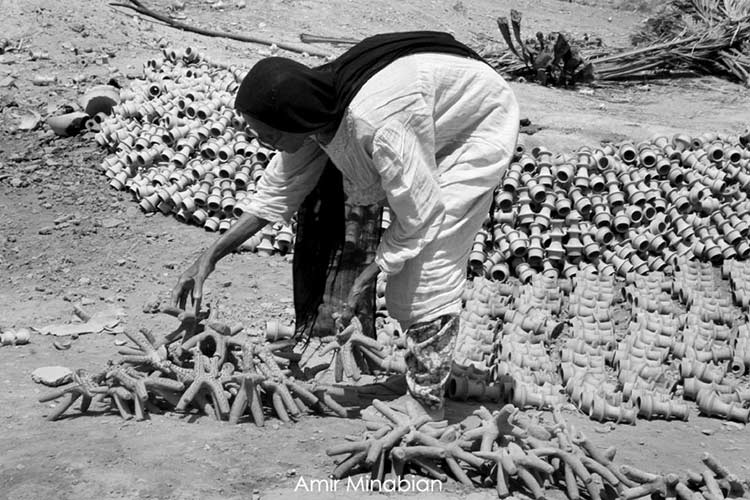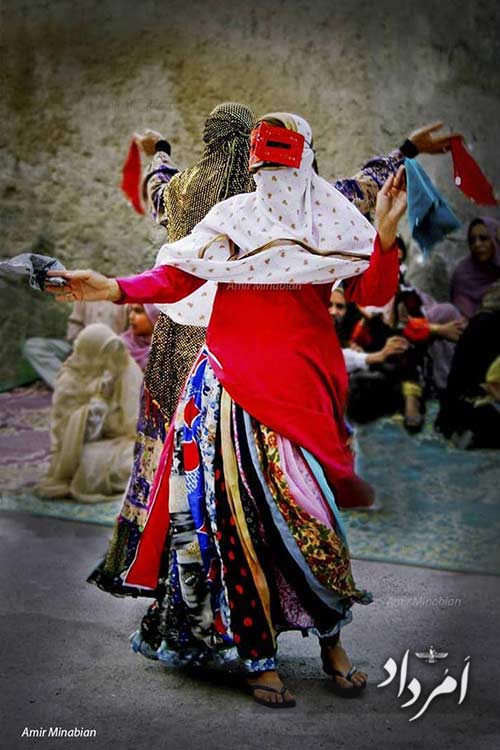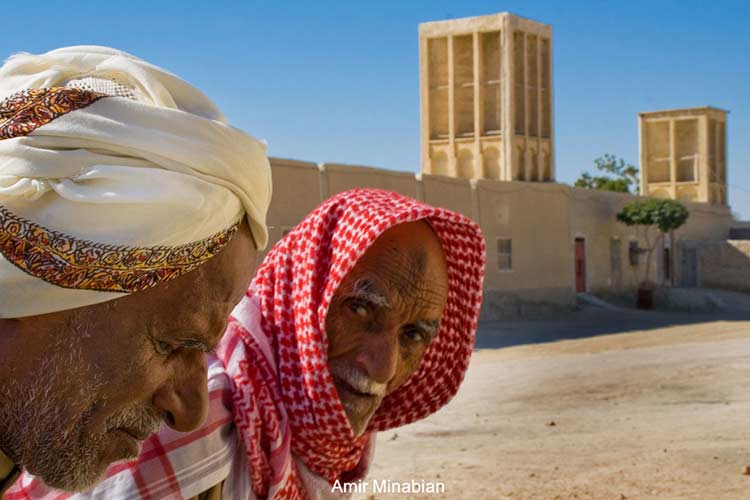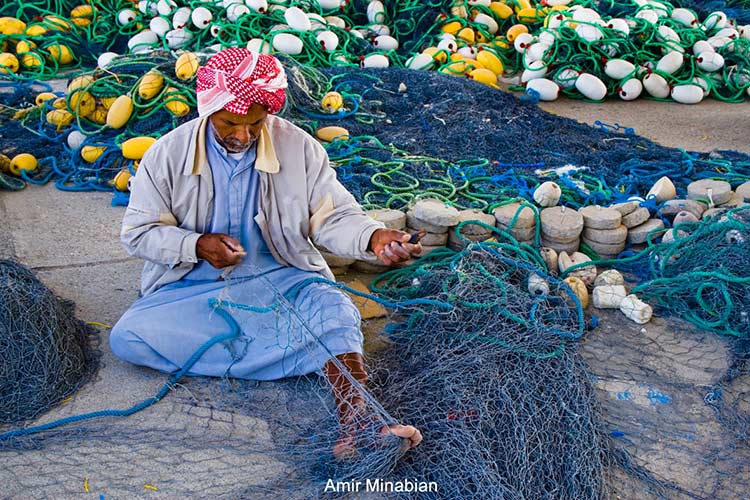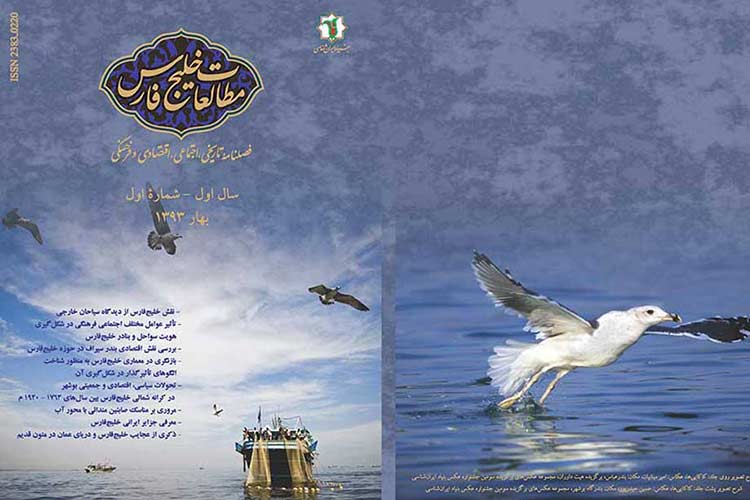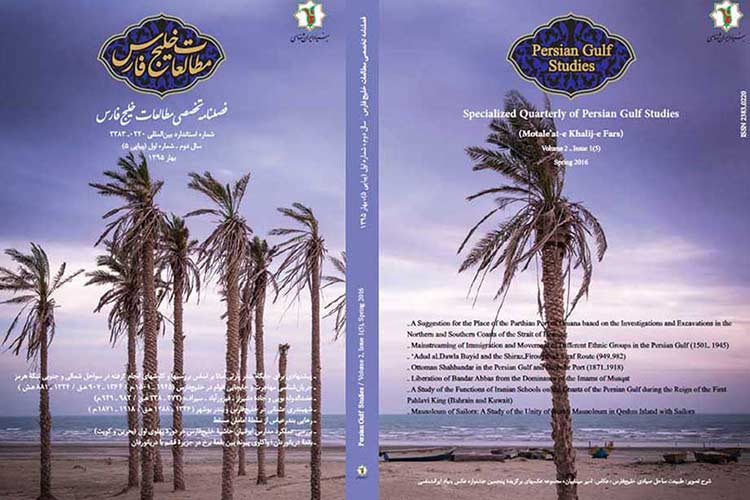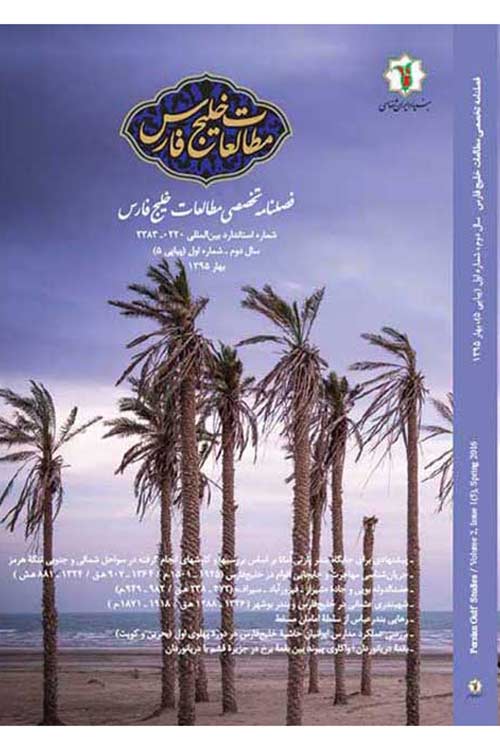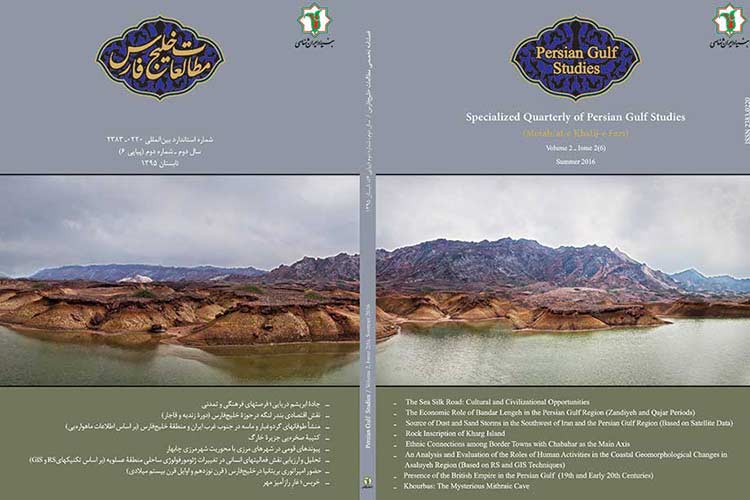 Photos by Amir Minabian