Today is Den Izad, the 24th day in the Zoroastrian calendar, Shahrivar 19 SH
Death anniversary of Hassan Amid: Famous Iranian Lexicographer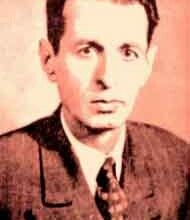 Today is Den Izad of the month of Shahrivar, 24th of Shahrivar of the year 3759 Zoroastrian calendar; Friday, 19th Shahrivar, the year 1400 official calendar, and September 10, 2021 AD.
19th of Shahrivar is the death memorial of Hasan Amid, a well-known Iranian writer, lexicographer, researcher and journalist. He is the author of Amid Dictionary, one of the most commonly used Persian dictionaries today.
Amid dictionary is a two-volume dictionary containing 22,475 words, including Persian, Arabic, and European words used in the Persian language, and literary and scientific terms written by Hasan Amid. This dictionary was first published in 1342 with the funding of Ibn Sina Library. Hasan Amid published Farhang-e No (new dictionary) in 1333, but his most complete dictionary is Amid dictionary. Amid dictionary has been published several times in large numbers, and it is a more or less exclusive and popular dictionary, and based on some expert views, it is flawless.
Hassan Amid was born in the year 1289 (solar calendar) in Mashhad, finished his studies there and at a very young age joined the Literary Association.  He started his writing and lexicography jobs in those same years. He wrote articles in Khorasan Magazine. One of the most important journalistic activities of Hassan Amid in Mashhad was to become editor of Khorasan Calendar and Toos Newspaper. In 1313, he started publishing Toos weekly newspaper in Mashhad and was engaged in journalism for many years in Khorasan. Following the occupation of Iran in World War II, during which the city of Mashhad fell to Soviet forces, the Soviets expelled Amid from Mashhad and exiled him to Tehran.
Following this exile, Amid corresponded with the Office of the Prime Minister of Iran and asked to return to Mashhad for family problems. The documents of this correspondence were published in the book "Iran: Organization and functioning of political parties" (1320-1340).
He spent several decades of his life doing research in vocabulary and lexicography.  During those years, he wrote several dictionaries of Persian vocabulary, the most famous of them being Amid dictionary. In 1355, Amid received one of the highest figures paid to an Iranian author as a lump sum of one million tomans to transfer all copyrights of all his dictionaries to Abdolrahim Jafari, owner and manager of Amirkabir Publications.
Hasan Amid passed away on 19th Shahrivar, 1358, at the age of 69. Hasan Amid's most prominent books are:
The mysteries of Manitism, on the ruins of Persepolis (1310), Khorasan yearbook (forth year: 1316, fifth year: 1317), Egregious errors in Persian dictionaries. Amid dictionary (1342) two volume dictionary, Nikookaran (1315), arhange No (1308), Farhange Koochake Amid, Farhange Mofasale Amid, Farhange Bargozideye Amid, Farhange Jibie Amid (1335), Farhange Dabirestanie Amid, Farhange Tarikh va Joghrafiaye Amid (1347), Tebbe Jadid.
Den (religion) is a Persian word and means conscience, insight, and introspect that has been placed in every human being by Ahura Mazda, to help him find the right path to pave.
Daena (den) is the name of the 24th day of each month in the Zoroastrian calendar, and the guardianship of the twenty-fourth day of the month is given to the god of religion (Den Izad). Den is the name of an Izad (god) of the Zoroastrian gods, the guardian of the pen. On this day children are sent to learning institutions.
Abu Rayhan al-Biruni has mentioned the name of this day as "Den" in the list of Iranian days, and in the Soghdian language it is also called Den and also in the Kharazmi language. Den derived from the word "Daena", is of the same meaning as Sorush, meaning conscience.
Insight has been put by Ahura Mazda into every human being so that he can find the right and proper path in life with its power and walk in it.
In Sanskrit, Gathas, and other parts of the Avesta, the word "daena" occurs eight times. Den in Gathas has different meanings, like faith, religion and Sorush.
Ferdowsi has a verse about this Izad:
Your faith should be people's happiness
And your religion should be honesty and chivalry